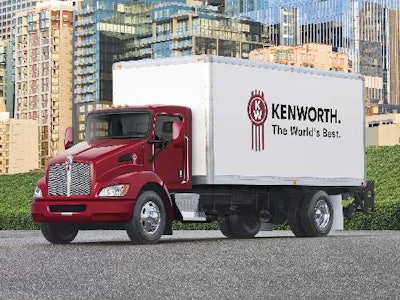 Kenworth Truck Co. achieved the highest ranking in customer satisfaction among truck owners in the Medium Duty Dealer Service Segment, according to the J.D. Power and Associates 2010 Medium Duty Truck Customer Satisfaction Study released Thursday, Oct. 28.
"Kenworth is honored to receive the prestigious 2010 Medium Duty Dealer Service Award from J.D. Power and Associates," says Bill Kozek, Kenworth general manager and Paccar vice president. "This achievement is due to the commitment and dedication of Kenworth dealers and employees who take great pride in delivering the highest-quality service and products to our customers."
The 2010 J.D. Power and Associates study, which ranks customer satisfaction by evaluating manufacturer performance, is based on interviews with nearly 1,300 primary maintainers of medium-duty trucks (Class 5-7). Kenworth performed well in the service facility factor, which helped lead to the award.
"It's gratifying that customers recognize the outstanding support they receive from more than 300 Kenworth dealer locations in the U.S. and Canada and from the Kenworth PremierCare Customer Center which operates 24 hours a day, seven days a week," says Kozek.
Kenworth's medium-duty product line features the T170, T270 and T370 and is suited for beverage and food haulers, fire departments, towing and recovery operators, propane and fuel fleets, general construction and landscape firms, and dry, refrigerated and side-curtain van operations. The T270 and T370 also are offered as diesel-electric hybrid trucks and tractors.