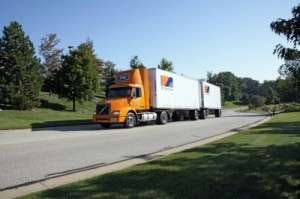 Teamsters members who work at YRC Worldwide Inc.'s operating companies have ratified a restructuring plan that is aimed at saving both the company and more than 25,000 union jobs, the union and YRC Worldwide both announced Saturday, Oct. 30. YRC and Holland members ratified the agreement by a 62 percent to 38 percent margin, while members at New Penn ratified the agreement by a 69 to 31 percent margin. About 67 percent of YRCW Teamsters cast ballots.
The Teamsters said the ratified plan — the third round of concessions the union has accepted to help YRC Worldwide regain its footing in the weakened economy — is the product of months of discussions and negotiations by its National Industry Freight Negotiating Committee in consultation with Teamster local unions. On Sept. 29, leaders from Teamster freight local unions unanimously recommended to send the plan to a membership vote. Union members voted by mail over the past three weeks, and ballots were counted this weekend, with the results announced Saturday, Oct. 30.
"We realize that in ratifying this restructuring plan our members will continue to make huge sacrifices, which have been very difficult for our members and their families during the worst economic recession in decades," said Tyson Johnson, director of the Teamsters National Freight Division. "However, we firmly believe this plan is the only hope for saving our members' jobs as this recession continues to cause so much hardship."
The union said that during negotiations with the company, it received input from a team of financial and restructuring experts it assembled over the past year to verify the company's financial situation and to assist in developing the restructuring plan. Through the ongoing process, the union said it reviewed numerous financial and operational reports on YRCW and determined that the restructuring plan was the best avenue to save and hopefully grow the respective companies it operates.
"As painful as the sacrifices are on an individual level, our members understood that by approving this restructuring plan, they would be setting the stage for the company's existing lenders to do their part and make this company an attractive investment for new investors and preserve their jobs," said Jim Hoffa, Teamsters general president. "As this restructuring moves forward over the next three to six months, the union will be involved every step of the way."
The restructuring plan modifies and extends the current National Master Freight Agreement and supplemental agreements for a two-year period until March 31, 2015, and provides for annual wage and benefit increases, including a resumption of partial pension contributions, beginning in June 2011.
"This new labor contract positions our company for improved performance by providing a long-term market-competitive cost structure as well as enhanced efficiency to meet the demands of today's transportation and supply chain customers," said Mike Smid, president of YRC Inc. and chief operations officer of YRC Worldwide, based in Overland Park, Kan. "Given the progress we have made over the last two quarters, this new labor agreement provides a strong foundation for long-term growth."
In addition to participating in the debt reduction and equity investment discussions to create a sustainable company, the union will require equity ownership of the company and, at a minimum, one additional board seat. The union said the plan also calls for continued equal sacrifice – management and nonunion employees are required to participate in cost sharing in an equal manner – and additional compensation improvements for Teamster members based on the company's future operating performance.