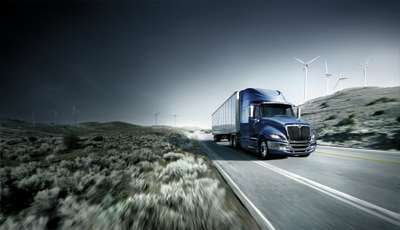 UAW-represented employees at Navistar ratified a new four-year labor agreement, the company announced Saturday, Oct. 30. Navistar says the labor agreement was approved by a majority of voting UAW members and replaces the prior contract that expired Oct. 1, 2010.
"The new contract is mutually beneficial," says Dan Ustian, chairman, president and chief executive officer at Navistar. "It will improve the operating structure and flexibility at our UAW-represented facilities to better compete in today's market. At the same time, it maintains a good quality of life for our employees and retirees."
Ustian commended the UAW for its focus during negotiations and its efforts to address needs of the business. "We jointly found common ground on some difficult issues," he says. "We look forward to continuing in that spirit of mutual respect and cooperation as we address other opportunities in the future."
Some of the key competitive changes and other collaborative provisions in the new labor contract, according to Navistar, include:
• Increased truck and engine model flexibility to better utilize manufacturing capacity at all facilities;
• Investment in a new technology center on the company's existing campus in Melrose Park, Ill., to perform test and validation work for current and developmental products;
• A significantly improved "new hire" package featuring a more competitive and predictable cost structure;
• Health care cost sharing by employees; and
• Flexibility in managing noncore activities.
Navistar says it will offer one-time financial packages to certain groups of employees who choose to separate or retire from the company, thus facilitating quicker utilization of the more competitive wage and benefit structure. "Going forward, we expect these operations to more easily adjust and cost-effectively perform throughout the industry cycle," Ustian says. "More competitive facilities increase job security and provide confidence of viability in the future."
The UAW represents about 2,000 employees at six Navistar facilities in Melrose Park (engine assembly and engine engineering); Springfield, Ohio (truck assembly); Atlanta, York (Pa.) and Dallas (parts distribution centers); and Fort Wayne, Ind. (truck engineering). Total worldwide employment at the company is 16,000.
Navistar plans to invest up to $90 million in the 80-acre Melrose Park campus over the next several years to create a state-of-the-art testing and validation center that celebrates the company's heritage while developing leading-edge commercial truck and diesel engine solutions to meet the needs of today's – and tomorrow's – customers.
The Melrose Park facility is intended to complement Navistar's integrated product development center that will be located at the former Alcatel-Lucent East campus in Lisle. The company will retain or create nearly 3,000 permanent jobs between the two campuses over the next several years along with more than 600 construction jobs.
"We're creating economic opportunity for the whole region at a time of substantial unemployment in Illinois," Ustian says. "Without the investment package from Gov. (Pat) Quinn's administration and the governor's personal commitment to see this project through, the creation of the Lisle campus and Melrose Park facility renovation would not be possible."
Final plans for the facility are contingent upon UAW ratification of new labor contracts this weekend. "With so many older manufacturing plants shutting down across the country, Navistar sees an opportunity to leverage our assets and reinvest in an existing facility to enable our growth as a company," says Don Sharp, Navistar chief information officer, the project leader for the company's local development efforts. "This investment solidifies our partnership with the UAW, our commitment to Melrose Park and the state of Illinois, where we've built a reputation as a good neighbor and trusted business partner. We're here to stay."
Constructed in 1941, the Melrose Park facility originally was operated by Buick to build engines for the B-24 Liberator bomber. In 1946, Navistar's precursor, International Harvester, purchased the plant to build construction equipment and engines. Currently, the facility is home to Navistar's Engine Group headquarters, I-6 engine manufacturing operations and powertrain product development.
Navistar says a portion of the campus will be dedicated to creating the next generation of commercial trucks and buses, including hybrid and electric vehicles, state-of-the-art emissions controls and the latest in diesel engine technology. The facility's exterior will include new green space, walking trails and about 10 acres of restored native prairie land. The building also will house a museum that will highlight the company's history.