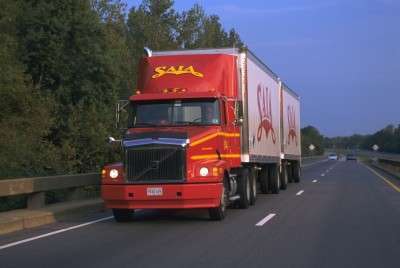 Saia Inc. announced Thursday, Oct. 28, that revenues for the third quarter ended Sept. 30 were $235 million, an increase of 6 percent from the prior-year quarter. Operating income was $6.5 million compared to $7.8 million; third-quarter 2009 results included $8.4 million in reduced expenses due to a change in vacation policy in that quarter. Net income was $2.5 million compared to $3.3 million.
The company's operating ratio was 97.2 vs. 96.5; third-quarter 2009 operating ratio would have been 100.3 excluding the impact of the favorable vacation adjustment. Less-than-truckload tonnage was up 1.2 percent as LTL shipments per workday were down 1.0 percent with a 2.2 percent increase in weight per shipment. LTL yield was up 3.3 percent primarily due to the impact of increased fuel surcharge and measured pricing actions.
Year-to-date, revenues were $678 million compared to $647 million in the prior-year period. Operating income was $10.3 million compared to an operating loss of $100,000. Net income was $1.3 million compared to a net loss of $4.7 million.
"Though the current environment has provided some unique challenges, Saia has not wavered from our commitment to provide an outstanding experience for our customers, while taking aggressive cost measures and investing in efficiency initiatives which benefit both our customers and our shareholders," said Rick O'Dell, president and chief executive officer of the Johns Creek, Ga.-based company. "This concerted effort, combined with more aggressive pricing actions taken over the past several quarters, has improved cash flow and core operating margins."
O'Dell said that Saia achieved higher increases in contract renewals as it went through the third quarter. "This is a continuation of the trend that we have seen with contract renewals since March of this year," he said. "It is encouraging that we are seeing a clear reversal of the pricing trends that have been such a challenge for the industry."
O'Dell said that in spite of progress on a number of fronts, Saia's results continue to be impacted by softness in the economy and the cumulative effect of unprecedented multi-year declines in industry pricing. "We expect our focus on yield enhancements, efficiency initiatives and customer satisfaction to further benefit Saia as industry fundamentals improve," he said.