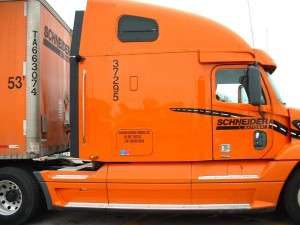 Schneider National has launched a small business owner program designed to help members of the military become successful owner-operators. The new offering from Schneider Finance, the company's truck financing affiliate, is designed specifically to meet the needs of military personnel while recognizing their service.
The Schneider National Military Owner-Operator Program is open to veterans and members of the National Guard and Reserve. A Class A commercial drivers license and six months of experience are needed to be eligible. Schneider will recommend driving schools for individuals who still need to acquire their Class A CDL. Military personnel also can work with a Schneider representative to learn about having their GI Bill applied toward driving school tuition.
The program allows military personnel to purchase or lease a truck without a credit check. Another benefit of the program is that leases will remain active throughout the time that military owner-operators are deployed or in training. "We believe the men and women who so courageously defend our country deserve the utmost respect and unwavering support from their employers," says Mike Hinz, vice president at Schneider National.
In addition to providing owner-operator opportunities, Schneider National also has programs for military personnel to join the organization as company drivers. "All of our military programs at Schneider National have been created to fit the lifestyles and commitments of former and current military personnel," Hinz says. Schneider also offers excused time off for military training.