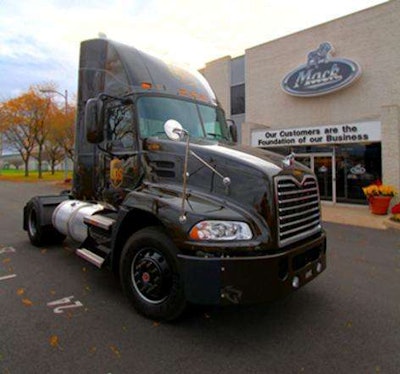 Global logistics leader UPS recently placed an order with Mack Trucks for 475 Pinnacle tractors built with U.S. Environmental Protection Agency 2010-certified Mack MP engines.
"We are very pleased that UPS decided to choose Mack and continue the long partnership between our two great companies," says Michael McNally, vice president of sales for Mack Trucks. "Our Pinnacle model combines the power and durability that Mack is known for, with the performance and fuel economy that customers like UPS require."
Production of the order will begin in early November at the Mack Macungie Assembly Operations just outside of Allentown, Pa, where all Mack trucks are built. All the trucks will be delivered by the end of 2010 to numerous locations across the United States.
The Mack Pinnacle Series is available in axle back or axle forward configurations and equipped with the fuel -efficient Mack MP engine, featuring Mack ClearTech Selective Catalytic Reduction (SCR) technology. The combination delivers near-zero emissions and up to a 5 percent fuel efficiency improvement over EPA 2007 engines, shrinking the trucks' carbon footprint, reducing operating costs and cutting the need for imported oil.
"Customers like UPS are responding positively to Mack's EPA'10 solution," says Scott Freeman, Mack fleet sales manager." Mack says it also demonstrated the efficiency and service that UPS was looking for in a manufacturer.
"UPS based their decision on a range of criteria, including people, products, services and total cost of ownership," Freeman says. "With our U.S.-based operations, production efficiency, and excellent service, we deliver the products that UPS and other customers need to be successful."