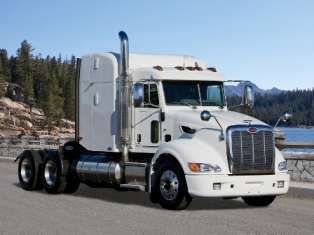 Peterbilt Motors Co. announced the purchase of 180 liquefied natural gas (LNG) trucks, the new clean fuel Model 386 and 367, by Robert Transport of Boucherville, Quebec. Robert Transport provides logistics solutions throughout the supply chain for dry and frozen food products. These new Peterbilt natural gas trucks will be used on routes between Montréal and Québec City, and Montréal to Toronto.
"At Peterbilt, we're engineering environmental solutions that meet customers' reliability and durability expectations through alternative fuel and hybrid platforms," says Bill Jackson, Peterbilt general manager and Paccar vice president. "These clean powered platforms provide an environmental option for customers without jeopardizing quality or performance. We are excited to work with Robert Transport to deliver a high-quality product that provides the performance, fuel efficiency and environmental characteristics to support their business."
The Peterbilt clean fuel Models 386 and 367 are powered by the Westport HD system, which consists of the GX 15-litre engine, proprietary Westport fuel injectors, LNG fuel tanks with integrated cryogenic fuel pumps and associated electronic components. The Westport HD GX engine is certified and compliant to 2010 U.S. Environmental Protection Agency and California Air Resources Board emissions limits in North America.
"Operating natural gas trucks helps reduce one of our largest input costs and reduces our carbon footprint," says Claude Robert, president and chief executive officer of Robert Transport. "This is a win-win for both the environment and our company. Our goal is to find alternatives to diesel and to reduce our greenhouse gas emissions by 20 to 25 percent. Our partnership with Peterbilt and their natural gas trucks are helping us work toward achieving that goal."
Peterbilt also offers compliant compressed natural gas (CNG) and LNG power platforms in the Models 384, 365 and 320, which are equipped with the Cummins Westport ISL-G engine. The ISL-G natural gas engine offers a 320 hp rating and 1,000 ft-lbs of torque. "Peterbilt's product design focus is to provide lightweight fuel-efficient solutions for our customers," says Landon Sproull, Peterbilt chief engineer. "Natural gas power systems complement our design objectives and significantly reduce greenhouse gas emissions."