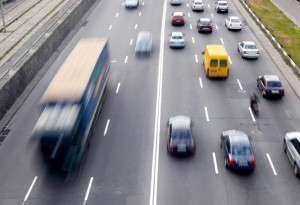 The Ceridian-UCLA Pulse of Commerce Index, a real-time measure of the flow of goods to U.S. factories, retailers and consumers, fell 0.6 percent in October following a decline of 0.5 percent in September and a decline of 1.0 percent in August. The three-consecutive-month decline is the first since January 2009 when the United States was still deep in recession.
The negative month-over-month trajectory for October, typically a peak month for America's trucking industry, also may prelude a disappointing holiday retail season. "The October PCI sounds an alarm about growth in the fourth quarter, and our latest PCI data indicates retailer wariness about future sales prospects," says Ed Leamer, chief PCI economist and director of the UCLA Anderson Forecast.
On a year-over-year basis, the October 2010 PCI is 4.1 percent higher than October 2009, which typically signals better sales prospects. However, year-over-year increases in the PCI have continued to fall since May's 9.0 percent growth peak, dropping to 8.6 percent in June, 8.0 percent in July, 6.0 percent in August and 5.8 percent in September. The quarter-over-quarter findings show a similar downward trend, with the first quarter 9.7 percent above the fourth quarter of 2009, the second quarter 6.2 percent above the first, and the third quarter 2.1 percent above the second.
"We have had a recovery 'time out,' " Leamer says. "Since May's peak, trucking has receded 8.3 percent. Fortunately, the full stew of economic information does not appear to foretell a double dip in the coming. Rather, the economic malaise that set-in this summer is still very much with us."
With the three-to-one relationship between the PCI and GDP growth in recessions and recoveries, the 4.1 percent PCI growth figure translates into 1.3 percent year-over-year GDP growth. The PCI also tracks closely on a monthly basis to the Industrial Production Index, to be released later this month. The declines in the PCI in the last three months suggest further slowing of growth of industrial production, anticipating another decrease of 0.16 percent adjusted downward from last month's prediction of 0.11 percent.
"While it's discouraging to see the PCI decline for the third consecutive month, October represents the 11th straight month of year-over-year growth in the index," says Craig Manson, senior vice president and index expert for Ceridian. "This means that the holiday sales season will likely be better than last year, but potentially disappointing versus current expectations in the marketplace. Should consumers show early exuberance, October's decline may only spell postponement to November. However, the PCI's performance indicates that retailers lack confidence in the coming sales season."