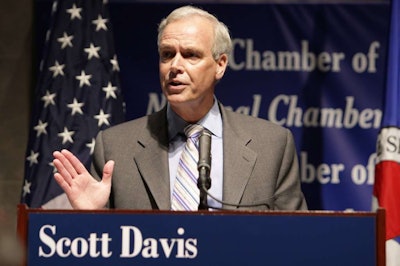 A boost in exports is the catalyst that the U.S. economy needs to rebound, according to Scott Davis, UPS's chairman and chief executive officer. "In my view, global trade is the quickest and surest way to accelerate global growth, create new jobs and improve living standards," Davis said in remarks Monday, Nov. 15, at the American Competitiveness Forum.
"We'll have to regain prosperity the old-fashioned way, not by household borrowing and spending but instead by earning it through innovation, increased production and aggressive marketing in other countries," said Davis, pointing out that more than 95 percent of the world's potential customers are located outside the United States, Davis told the audience. "Frankly, given the massive scale of this world economy, I'm astonished that U.S. businesses aren't more vocal in demanding better access to this huge wave of global consumers," he said.
Davis, a member of the President's Export Council, expressed deep concern about Congress' failure to approve negotiated trade agreements with South Korea, Columbia and Panama, which the U.S. Chamber of Commerce says has cost the U.S. some 380,000 jobs at a time when there is 9.6 percent unemployment. "In the halls of Congress, compelling arguments for trade get overwhelmed by noisy heated attacks on globalization," Davis said, referring to recent midyear election campaigns. "For the economy's sake, we need to stop the foot dragging and move quickly on these pending deals."
Davis also criticized recent "Buy America" provisions that block foreign firms from bidding on major contracts with the federal government. "These provisions put very important trade partnerships at risk – an outright deal killer" for U.S. companies seeking to sell internationally, he said. Unilateral constraints on trade by the U.S. ultimately cost American businesses, said Davis, who urged American businesses to "defeat the tyranny of protectionism" by promoting free trade around the world.