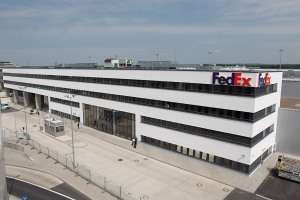 FedEx Express recently joined with Cologne Bonn Airport in Germany to inaugurate the new FedEx Central and Eastern Europe hub. The Cologne hub is the second FedEx Express hub to be solar-powered and the fifth solar facility in operation within FedEx Corp.
Gerald P. Leary, president of FedEx Express Europe, Middle East, Indian Subcontinent and Africa, and Michael Garvens, chairman of the Management Board of Flughafen Kln/Bonn GmbH, officially set the fully automated sorting system in motion. The hub in Cologne has a fully-automated sorting system that can process up to 18,000 packages and documents per hour.
The roof features the largest FedEx Express solar power installation worldwide, with an area of 16,000 square meters, producing about 800,000 kilowatt hours per year. Including the Cologne hub, the five online FedEx solar facilities will reduce annual carbon dioxide emissions by a projected 3,918 metric tons.
"This solar-powered facility is the latest example of our commitment to responsibly connect the world for our customers through innovative solutions," says Mitch Jackson, vice president of environmental affairs and sustainability for FedEx Corp.