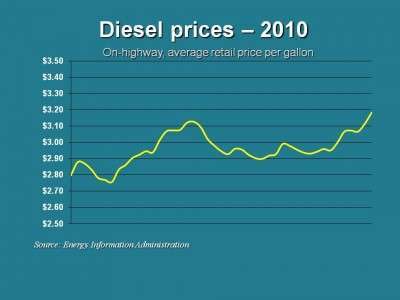 After a period of remarkable stability from June through September, the national average price of diesel has risen 23.3 cents since the end of September, according to the U.S. Department of Energy's Energy Information Administration. Diesel prices rose 6.8 cents to $3.184 during the week ended Nov. 15 following a jump of 4.9 cents the previous week. On average, diesel prices are 39.4 cents higher than they were during the same week last year.
Prices rose in all regions, led by the 7.9-cent jump in the Rocky Mountain region. The smallest increases were 6.0 cents in New England and Califorina, which has the nation's most expensive diesel. The least expensive diesel on average is in the Gulf Coast region.
Complete diesel price information for the week ended Nov. 15 is available on the EIA's website.