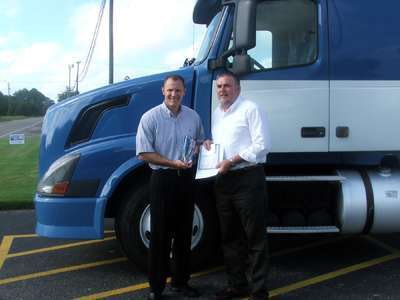 A Volvo VN 630, powered by a D12 engine, recently was retired among the drivers and mechanics of AAA Cooper Transportation. Volvo Trucks North America says the truck logged 1.5 million miles in seven years without an engine overhaul. The vehicle was placed into service in May 2003 by the Dothan, Ala.-based company.
Logging as many as 250,000 miles a year, ACT sleepers usually are traded out around 1.25 million miles. "By the time most trucks reach their trade cycle, they've had at least one engine overhaul, but this one hadn't," says Will Davis, fleet maintenance adviser for ACT. "The only thing we replaced was the No. 2 injector in 2009."
Mack Dove, the owner of the business, took notice of the truck's record and wanted to see how far the engine would go before it quit. ACT kept the truck in service, and the long-running truck soon became a point of pride for the drivers. ACT says the truck's engine never had even been opened up and was still going strong when it reached 1.5 million miles in September.
With the truck now out of service, ACT has given it back to Volvo to review the engine's longevity and continue to improve the correlation between engineering tests and real-world performance. At company headquarters in Greensboro, N.C., Volvo engineers will be taking the truck apart to examine and analyze every line, hose, fitting and wiring connection.
"The truck still runs and looks great," says Greg Holderfield, director of product reliability for Volvo Trucks North America and ACT's first account representative. "Our engineers are eager to see what the engine looks like on the inside and use that information to improve our product line moving forward. Our design, manufacturing and testing processes are extremely rigorous. We have other examples of high-mileage trucks, and view all of them as opportunities for continuous improvement."