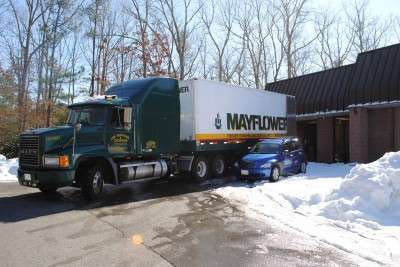 Increasingly, transportation companies with multiple locations are using Voice over Internet Protocol (VoIP) technology to save money and solve difficult business challenges.
Last year, Premier Transfer & Storage, a Blacksburg, Virginia-based agent for Mayflower, updated its phones to the Samsung 7000 series VoIP system after expanding to a new location in Richmond.
The system has already paid for itself, says John Phillips, owner. The company is saving nearly $3,000 a month by using the phone system to centralize customer service, scheduling, and other administrative functions.
"For us to be able to connect to each office, without long distance charges, is a tremendous benefit," Phillips says. Employees can now easily reach workers in the warehouse as well as salespeople and drivers on their mobile devices.
"We can see who is on the phone, who is not, and transfer calls around the various offices. It has been a tremendous benefit to us and affected every area of the company."
To network all three of Premier's locations, the new Samsung phone system cost less than half of the $50,000 Novia phone system it purchased a few years ago for its location in Roanoke, Phillips says.
Other benefits of VoIP technology include improving the claims process. Premier Transfer and Storage can now record conversations with customers about damaged items. The company also uses the Samsung VoIP system to track inbound phone calls to determine where to spend its marketing dollars most effectively.
The new phone system has also been used for business continuity. When a telephone pole near one location was struck by lightening during a rain storm, the company immediately forwarded calls to central dispatch and rerouted the calls back to the location without any outages.
Premier Transfer and Storage also is saving about $600 per month, per location, by using a feature called "VoIP trunking." The technology has greatly reduced the number of phone channels (PRIs) it purchases from dial tone providers. The company only uses one PRI per location, Phillips says.