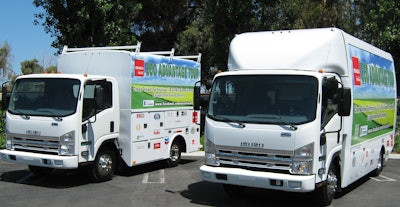 Isuzu Commercial Truck of America Inc. has concluded its Eco-Advantage Tour – a coast-to-coast showcase for the 2011 Isuzu NPR Eco-Max that began when its trucks departed Santa Ana, Calif.. Two upfitted versions of the Isuzu NPR Eco-Max visited more than 200 Isuzu truck dealers between Sept. 7 and Nov. 17. The lightweight Eco-Max Tool Pro was upfitted with a recyclable aluminum utility body engineered by The Reading Group. The streamlined Eco-Max Aero Body featured an aerodynamic van body designed by Supreme Corp.
Both Eco-Max trucks are powered by Isuzu's 3.0-liter dual overhead camshaft turbocharged diesel engine designed to meet U.S. Environmental Protection Agency 2010 and California Air Resources Board HD-OBD emissions standards. The trucks incorporate selective catalytic reduction technology for lower emissions and improved fuel economy.
At each stop on the Eco-Advantage Tour, representatives of Isuzu Commercial Truck of America delivered product presentations and conducted training for local dealership sales, service and parts personnel. Representatives of Reading and Supreme also were available to answer questions at select locations. Static displays with additional product information supported the live presentations.
"Whether you're a fleet manager, a small business owner or just an interested member of the public, we wanted everyone with an interest in environmentally friendly truck design to see the state of the art in the industry and to experience the fuel economy these vehicles provide," says Shaun Skinner, executive vice president and general manager of Isuzu Commercial Truck of America.
Photos and videos from the tour were uploaded regularly as the tour progressed. This information and information about the complete line of 2011 Isuzu N-Series Trucks can be found on Isuzu Commercial Truck of America's website, www.isuzucv.com, as well as on the company's Facebook page, www.facebook.com/isuzutruck.