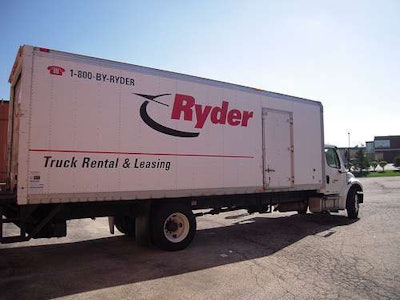 Ryder System on Wednesday, Dec. 8, announced it has signed an agreement to acquire Holland, Mich.-based Total Logistic Control, an independently-run wholly-owned subsidiary of Supervalu. TLC is a provider of supply chain solutions to food, beverage and consumer packaged goods (CPG) manufacturers with supply chains throughout the United States.
Ryder, which will acquire TLC for cash under a stock purchase agreement, says the acquisition is expected to add about $250 million in annual revenue to its Supply Chain Solutions business segment. The acquisition is anticipated to be accretive to Ryder's earnings per share in 2011 excluding one-time transaction costs. Subject to closing conditions and regulatory approvals, the acquisition is expected to close on Dec. 31.
"Total Logistic Control is a well-known and highly regarded supply chain solutions provider in the demanding industry sectors that it serves," says Greg Swienton, chairman and chief executive officer of Miami-based Ryder. "The company has a client-focused management team, operational expertise and strong, deeply established relationships with blue-chip Fortune 1000 clients operating in food, beverage and CPG, which are high-potential industry sectors that Ryder's Supply Chain Solutions business segment has targeted for growth."
Swienton says the acquisition expands Ryder's Supply Chain Solutions offering with firmly-established comprehensive food, beverage and CPG capabilities to complement its suite of automotive, high-tech, industrial and retail groups. "Additionally, the acquisition serves as an effective use of available financial leverage and is consistent with our direction for Ryder's long-term leverage targets," he says.
John Williford, Ryder's president of Global Supply Chain Solutions, calls the strategic acquisition "an exact fit with our strategy of developing a leading CPG capability and strengthening our focus in key vertical industry sectors. By bringing the TLC organization and operations over to Ryder intact, we are able to immediately deliver best-in-class supply chain solutions to a broad range of new and existing food, beverage and CPG clients."
Williford says that going forward, Ryder will build on TLC's packaging and temperature-controlled warehousing capabilities by integrating client solutions using Ryder's strengths in Dedicated Contract Carriage, Transportation Management, lean operational execution and logistics engineering. "We look forward to providing clients with innovative solutions in Ryder's new CPG vertical industry group," he says.
TLC provides clients a broad suite of end-to-end services, including distribution management, contract packaging services and solutions engineering. TLC's clients consist of local, regional, national and international firms engaged in food and beverage manufacturing, consumer and wholesale distribution. TLC operates 34 facilities comprising 10.6 million square feet of dry and temperature-controlled warehousing across 13 states. Ryder says TLC's management team and 2,500 employees are expected to continue in similar roles with the company.
"We are proud of the reputation we've earned and our strong capabilities in serving the food, beverage and CPG industries," says Peter Westermann, TLC president and CEO. "This acquisition will allow us to join together as one company to form the industry's most reputable and recognized provider of supply chain solutions and become the market leader for logistics services in the consumer packaged goods sector. We are excited about the opportunities for growth, and we look forward to joining Ryder to provide even greater value to our clients."