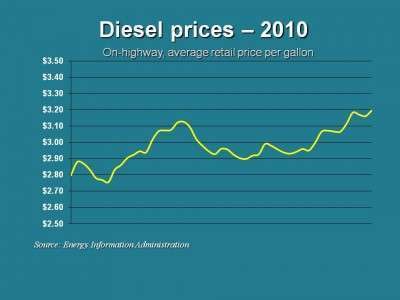 After two straight weeks of decreases, diesel prices resumed their recent surge, rising 3.5 cents during the week ended Monday, Dec. 6, according to the U.S. Department of Energy's Energy Information Administration. The national average price is now $3.197, which is nearly 25 cents higher than the level at the end of September when prices began to surge. Diesel prices are 42.5 cents higher than they were during the same week last year and are at their highest level since late October 2008, when diesel prices were plummeting from their all-time high that summer.
Prices rose in all regions. The largest jump by far was in New England, where the average price rose 7.8 cents. Traditionally, New England diesel prices are most susceptible to sharp increases in winter months because that region uses oil for home heating more than others. Home heating oil and diesel compete for the same distillate stocks.
The next-largest increase was in the Gulf Coast region, where prices rose 5.4 cents. Still, the Gulf Coast had the nation's lowest diesel prices, as usual. Also as usual, California has the most expensive diesel. The smallest increase in prices was in the Rocky Mountain states, where diesel was only 0.4-cents higher than the week before.
Complete diesel price information for the week ended Dec. 6 is available on the EIA's website.