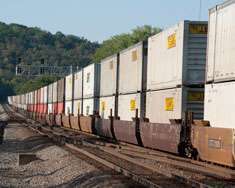 J.B. Hunt Transport Services Inc. on Wednesday, Dec. 8, announced its year-to-date Intermodal segment volume had surpassed one million loads for the first time. JBI specializes in the conversion of freight from the highway to the railroad throughout the Continental United States, Canada and Mexico. J.B. Hunt currently operates nearly 43,000 53-foot containers.
"This is truly one of the proudest moments in our company's long and storied history," says Kirk Thompson, president and chief executive officer for Lowell, Ark.-based J.B. Hunt. "When you place a well-developed strategic vision in the hands of the brightest, most capable transportation people in the industry, this is the result. It is the exemplary teamwork and dedication of our employees, as well as our strong rail relationships, that enabled us to achieve this momentous accomplishment."
J.B. Hunt began Intermodal operations in 1989 with an arrangement with what is now BNSF Railway. "Our JBI segment and arrangement with Burlington Northern was conceived at a perfect time to revolutionize the intermodal business ," says Paul Bergant, president of Intermodal for J.B. Hunt. "What started with a handshake has grown into a service that is unparalleled in the transportation industry, in both size and scope. That kind of growth only happens when you focus on your customers."
For the past decade, J.B. Hunt says it has been focused on and committed to reducing its carbon footprint to make a significant difference in the environment though innovative sustainability efforts. According to the company, one million loads converted to Intermodal has saved 150 million gallons of diesel fuel from being consumed.