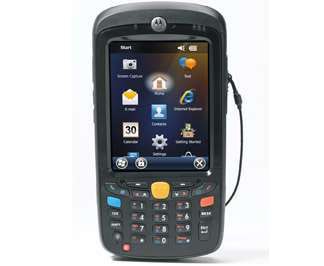 The Motorola Solutions business of Motorola announced the MC55A0 series – a rugged Wi-Fi enterprise mobile computer for managers, task workers and clinicians.
The MC55AO series is designed for scan-intensive applications, the company says, with a 1D laser scanner or three options for a 2D imager.
The new devices have a 3.2 MP auto-focus camera, which can be used for proof-of-delivery applications. Because the devices use wireless 802.11 communications, they are more apt for in-premise business applications as opposed to applications such as pickup and delivery that would require cellular connections.
Available in two models, the MC55A0 is designed for customer-facing business applications, while the MC55A0-HC is available in white and blue and is disinfectant-ready for healthcare environments.
Other features include:
• Motorola's Total Enterprise Access and Mobility (TEAM) Express solution provides Push-To-Talk capability between the MC55A0 and other Motorola devices, including mobile computers, TEAM VoWLAN smartphones, and Motorola two-way radios for virtually instant communication.
• The MC55A0 incorporates the latest-generation technology platform that offers best-in-class application performance and a super-bright, 3.5-inch PenTile VGA display that offers visibility in virtually all lighting conditions.
• Built to last, the MC55A0 series can withstand the rigors of in-building use and in areas outside a facility. The MC55A0 delivers outstanding performance, even after exposure to heat, cold, dust, water — and all models can be sanitized to help prevent the spread of germs to patients and caregivers in a hospital as well as shift workers in other industries where devices are shared.
• In addition to standard support for all the latest wireless authentication and encryption protocols and Motorola's tested and certified Virtual Private Networks (VPNs), the MC55A0 series adds native FIPS 140-2 Level 1 certification, bringing government-grade security to businesses and government agencies.