MitFuso unveils new powertrain
EPA 2010-compliant system powers Class 3-5 trucks
Mitsubishi Fuso Truck & Bus Corp. of Kawasaki, Japan, parent company of Mitsubishi Fuso Truck of America, unveiled a new powertrain for the next generation of Mitsubishi Fuso Class 3-5 commercial trucks in North America. The integrated powertrain is designed to meet U.S. Environmental Protection Agency 2010 emissions standards, provide enhanced drivability and increase fuel economy more than 10 percent compared to the previous-generation Mitsubishi Fuso 4M50 engine designed for EPA 2007 emissions standards.

The new 4P10 engine – a lightweight, efficient 3-liter in-line 4-cylinder diesel powerplant – is designed for rugged service and low fuel consumption. The engine features an intercooled two-stage turbocharger, piezo-type fuel injectors, common-rail injection system, dual overhead cams and lightweight block. Careful tuning and higher-revolution operation, combined with the rapid response of the piezo fuel injectors, are engineered to provide a flat torque curve with excellent response and smooth operation.
The new Duonic dual-clutch transmission, the culmination of a 30-year development effort by MFTBC, is described as the first-ever global application of a dual-clutch transmission in a commercial truck. The new 6-speed transmission – made to integrate the simple operation of an automatic transmission with the performance and fuel economy of a manual transmission – is designed to work in sync with the engine to meet the company's drivability, emissions and fuel-efficiency goals.
MFTA says the driver will operate the vehicle just as a standard automatic, using only a throttle and brake pedal – no clutch manipulation is required, and no clutch pedal is installed. The transmission's electronic control system uses a multivalue control system to match transmission shift points to vehicle load, speed, driving conditions and accelerator angle, minimizing torque interruption (power decline) during gear changes. Gears are designed to change smoothly without power loss during shifts, and the system is programmed to optimize gear selection, providing fuel savings while maintaining power delivery to the drive wheels and easy drivability for the operator.
For urban environments, the Duonic transmission offers further enhancements. An "Eco mode" allows the driver to adjust shift points to reduce fuel consumption during heavy traffic operation, and a "creep" function makes control of the vehicle easier when subtle adjustments to vehicle speed are needed in heavy stop-and-go traffic and for hill starts. For added convenience, a Park function used by most automatic transmissions also has been included, which locks an internal transmission gear to help assure safety and stability when the vehicle is parked. Finally, the transmission uses a wet-clutch design, which eliminates the need for regular clutch changes due to wear, thus reducing maintenance costs and contributing to low cost of ownership.
Like MFTA's previous-generation powertrain, the new setup will use Daimler's selective catalytic reduction-based BlueTec emissions technology to meet EPA's 2010 emissions mandate. MFTA says the new powertrain has undergone durability tests accumulating nearly 2 million miles in Asia, Europe and the United States. In addition, the 4P10 engine and BlueTec system already are installed in selected Mitsubishi Fuso trucks operating in Europe, and recently were introduced into Mitsubishi Fuso's product line in Japan.
IN BRIEF
* Bendix Commercial Vehicle Systems produced its 750,000th Bendix BA-921 air compressor. The BA-921 was introduced in 2002.
* Eaton expanded its electric hybrid power system into the Latin American city bus market with the first delivery of two YoungMan Neoplan 12-meter Eaton hybrid-powered buses to Guadalajara, Mexico.
* Navistar International Corp. received the U.S. Chamber of Commerce's 2010 U.S. Community Service Award for an employee-to-volunteer effort spearheaded by the company's Navistar Diesel of Alabama engine plant in Huntsville.
* Kenworth and Paccar Financial are offering an extended warranty program through March 31 for U.S. customers. Kenworth customers may receive a 3-year/300,000-mile basic vehicle extended warranty by choosing Paccar Financial to finance purchases of new Kenworth Class 8 trucks with a standard highway warranty.
* TravelCenters of America announced that Performance Plus Winterized Diesel fuel is available at 127 of its TA and Petro Stopping Centers locations. Diesel fuel at TA and Petro locations is seasonally adjusted with an additive supplied by Innospec Fuel Specialties, a fuel treatment company.
* Phillips Industries launched "Qwik Tech Tips," a monthly newsletter featuring solutions to electrical maintenance issues commonly faced by trucking fleets. Each issue is available at www.phillipsqwiktechtips.com or via e-mail in PDF format.
Allison expands 2011 transmission features
Allison Transmission is widening its ongoing product optimization initiative with new performance-enhancing features for its lineup of 2011 heavy-duty automatic transmissions. For starters, all Allison Automatic 2011 models will feature new Economy Shift Schedules for improved fuel economy compared to previous transmissions.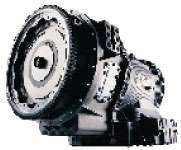 For school buses, Allison 1000/2000 Pupil Transport/Shuttle Series models will be available with Increased Torque Converter Lockup Availability. Lockup occurs when the torque converter achieves a direct connection between the engine and the transmission. Allison's new Increased Lockup Availability enables the transmission to shift into lockup in first range and stay locked up through the higher range. Locking the converter earlier optimizes the balance of fuel economy and vehicle performance.
Allison 2nd Reverse, now available for the Oil Field Series 4700 model, offers a second "deep reverse" in addition to standard reverse and provides more maneuverability when operating in confined spaces and slow creep capability with high engine speeds, suitable for positioning heavy rigs.
Variable Modulated Main, now featured with all Allison 3000/4000 models, modulates the pressure required in the internal lubrication system to increase transmission efficiency and improve fuel economy. Also, 3000/4000 models now are available with Low Speed Grade Assist to provide improved performance and reduce heat generation when climbing grades.
Volvo Trucks debuts custom-built VHD pickup
Customers and other visitors at the Volvo Trucks New River Valley manufacturing plant in Virginia now can experience a fully equipped Volvo VHD – in modified pickup truck form. The bright orange one-of-a-kind Volvo VHD chassis has a full-size 11-foot-high crew cab and a pickup truck bed. The four-door five-seat vehicle is powered by a U.S. Environmental Protection Agency 2010-certified 500-hp Volvo D13 engine and features an I-Shift transmission.
Volvo designed the VHD pickup as a sales tool to make getting around the large New River Valley site unforgettable for customers and visitors; they get a firsthand sense of Volvo truck comfort and performance as they tour the facility or are transported to and from the local hotels and airport. The VHD pickup also will be featured at trade shows, parades and other special events.
"We spend a lot of time educating customers about our technology – how it works and the value it brings," says Ron Huibers, senior vice president of sales and marketing for Volvo Trucks North America. "But explaining how impressive the I-Shift technology is, for example, doesn't replace the driving experience. The new VHD with I-Shift pickup allows people who are not professional drivers to experience the technology for themselves."
Volvo, ATA host discussions on freight, equipment
Fleet executives gathered in Washington, D.C. last month for "The Future of Freight Transportation," an event hosted by Volvo Trucks North America, the American Trucking Associations and the Embassy of Sweden. Leading topics focused on truck productivity, safety technology and carbon emissions as the country's aging infrastructure and future regulatory policies threaten to limit freight movement in the coming years.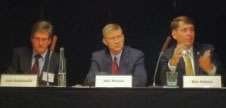 Infrastructure upgrades and use of heavier trucks are two key components to help freight tonnage meet the demands of the future. "One strategy that should be well understood and considered is the ability to use more productive trucks as part of the transportation mix," said Ron Huibers, senior vice president of sales and marketing for Volvo Trucks North America. Huibers said potential solutions include use of heavier trucks and developing truck-only lanes.
Citing increased highway congestion, tougher truck emissions standards and the likelihood of spikes in diesel prices, John Runyan, executive director of the Coalition for Transportation and Production, outlined a plan to reform vehicle weight limits. The Safe and Efficient Transportation Act, a bill currently in front of the House Ways and Means Committee, would grant individual states the right to adopt 97,000-pound six-axle trucks. If passed, the legislation would allow a 17 percent increase in ton-miles per gallon compared to conventional 80,000-pound trucks and save 2 billion gallons of diesel fuel annually, said Runyan.
Another challenge is developing sustainable productivity – moving as much freight as possible per truck more safely while limiting infrastructure consumption. One option is the use of long combination vehicles (two 53-foot trailers per power unit). Benefits would include productivity gains of up to 44 percent, improved safety, reduced fuel consumption and emissions and lower shipper costs, said John Woodrooffe, director of the University of Michigan Transportation Research Institute's Transportation Safety Analysis Division. "Truck productivity is limited by policy, not technology," he said. "To the extent possible we need to let science guide the policy."
Addressing issues involving truck safety, Anne Ferro, administrator of the Federal Motor Carrier Safety Administration, shared her views on the evolution of truck safety in the near future. "We look to technology to get us to that next level in safety," said Ferro. "The challenge of moving freight safely in the future is ensuring safety is built into the supply chain sooner than it is today in many instances. Safety should not come into the supply chain at the roadside or in the aftermath of a crash."
For more information from "The Future of Freight Transportation", visit www.moreproductivetrucks.com.
Spending bill could extend truck weight pilot program
A provision has been added to an omnibus government funding bill that would extend the Maine and Vermont truck weight pilot program for one year and continue giving heavier six-axle trucks full access to interstate highways in the two states.
Prior to the pilot program, commercial vehicles weighing more than 80,000 pounds often were barred from interstate travel and diverted onto state and local roads. The Obama administration and Maine DOT both have supported the permanent extension of the pilot program and have credited it with having improved safety and productivity on Maine and Vermont highways.
The Senate must now pass the omnibus funding bill and send it back to the U.S. House of Representatives for its approval. "The pilot's extension is certain to be a tremendous victory for national truck weight reform," says John Runyan, executive director of the Coalition for Transportation Productivity, a group of 180 shippers and allied associations backing increased federal weight limits on interstate highways.
Runyan says that like Maine and Vermont, more than 40 other states have state weight limits that exceed the federal interstate weight limit and must relegate heavier traffic to busy state roads. "It's only logical that higher productivity trucks belong on interstates, where they can safely and efficiently deliver freight," he says. n