Carriers can use technology, strategy to combat volatile diesel prices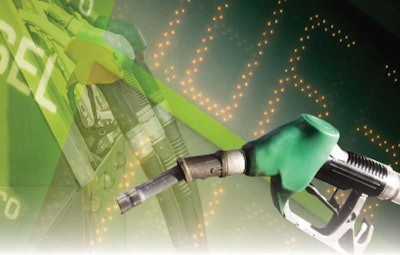 In mid-December, crude oil prices appeared to settle into the $80- to $90-a-barrel range with fuel inventory high and demand generally low. And while diesel fuel prices are at a two-year high, the market fundamentals suggest those prices could drop.
Don't count on it. At any time, stock market speculation, weather, geopolitical events and other random happenings may cause prices to spike or even initiate the next fuel crisis.
While you cannot control the market, you can control your operating costs and margins by using fuel-buying strategies to protect margins and build competitive advantage.
Channeling volume
The core strategy for lowering fuel costs is to consolidate vendors and fueling locations to maximize volume discounts. Small and large fleets alike can leverage the collective purchasing power of fuel and fleet card providers to save a few cents off retail fuel prices. These discounts are applied at the point of purchase.
Fleet One's fuel rebate network of more than 1,100 locations has no transaction fees, and the average rebate is 3 cents a gallon. Fleet One also can assist fleets in negotiating their own discounts with truckstops, says Dave Rewers, vice president of group sales.
Besides offering discount networks, fuel and fleet cards provide electronic controls and instant visibility to fuel transactions by location, dollars, gallons and other categories such as fuel type.
Comdata plans to enhance its fleet card with controls for more than 75 different types of fuel, including biodiesel and compressed gas, and other products such as diesel exhaust fluid, says Cory Sickles, vice president of over-the-road product development. Previously, the fleet card could process and report four types of fuel transactions: Diesel #1, Diesel #2, Reefer and "Other Fuel."
Using data
Just as critical as having tight controls on fuel purchasing is how you use information to sharpen your present and future fuel-buying strategies.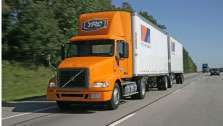 Fleet One's fuel management group helps customers design custom fuel networks by considering shipping lanes, current fuel prices, fuel tax implications, volume and other factors. After fleets give drivers their fuel network locations, Fleet One provides reports on network compliance and the resulting dollar loss of noncompliance.
By using Comdata's Web-based business intelligence platform, reportQ, fleet managers have visibility into spend levels, purchasing trends and historical data. They can monitor fuel savings and use the information – such as gallons purchased by location – to reshape their fuel network to maximize volume discounts.
To help customers with daily route planning, Comdata soon will introduce a fuel price index report, the Low Cost Network, which will show fuel price trends based on a monthly average to help customers locate the lowest cost of fuel by region, state and interstate.
Fuel surcharges
Fuel surcharge revenue typically is calculated using a cents-per-mile scale that is indexed to the U.S. Department of Energy's average weekly fuel price report. When fuel prices rise, the surcharge covers the incremental fuel costs only for loaded miles between shipment origin and destination. Margins are exposed to fuel increases due to any out-of-route and deadhead miles, idling and the overall variance between actual versus billable miles.
"If you can get 75 percent coverage on a surcharge, count yourself lucky," says Kent Stratford, chief financial officer of Logan, Utah-based L.W. Miller Transportation, a 200-truck fleet that provides dry van, refrigerated, livestock and bulk carriage.
One way to reduce the impact of volatile fuel prices is with a fuel surcharge that ties more directly to actual fuel costs rather than a weekly average. FuelSurchargeIndex.org offers such a service that uses actual pump prices from more than 5,000 truckstops to calculate the average daily fuel price for a point-to-point route. Several companies are involved in the FuelSurchargeIndex.org venture, including ProMiles and Randall-Reilly, which owns CCJ.
Hedging your bets
Hedging is another way to protect margins from incremental nonbillable fuel costs. A common and practical way to hedge fuel costs is to purchase fuel contracts from a supplier for the physical delivery of fuel. This strategy not only applies to purchasing fuel in bulk for terminal locations but also to purchases at truckstops.
"If you can get 75 percent coverage on a surcharge, count yourself lucky."
– Kent Stratford, CFO, L.W. Miller Transportation
Every few months, L.W. Miller Transportation signs a new term agreement with Simons Petroleum and agrees to buy a certain volume through the Pathway Network, which consists primarily of Love's Travel Stops. Simons Petroleum offers physical delivery of contract gallons to fuel suppliers in the Pathway Network on behalf of L.W. Miller and its other customers.
By purchasing fuel on contract from Simons Petroleum, L.W. Miller has fixed nationwide prices for its fuel at the 220 locations in the Pathway Network.
L.W. Miller also can negotiate a discount from its contracted fuel prices by consolidating purchases to certain Pathway locations. Drivers purchase fuel with their fleet card, and Simons Petroleum reconciles the gallons and fuel prices to the contract price; L.W. Miller is billed electronically.
Although some may refer to this type of fuel contract as a "hedge," Stratford sees it differently: "You've got to view it as an insurance policy."
Based on the downside pricing potential in today's fuel market, Brad Simons, president of the Pathway Network, recommends fuel contracts not extend beyond three to six months.
Savings next exit
Today's fuel optimization software systems do more than identify the cheapest prices and locations along a given route; they integrate with fleet dispatch and routing systems to determine a daily fuel-buying plan that considers the total route cost of tolls, fuel tax implications, fuel networks, mileage, driver wages, time and utilization.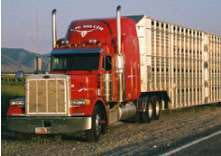 Fuel&Route by Manhattan Associates calculates optimal route and fuel purchase plans for each driver in a fleet as part of the pretrip planning process. The system considers all of the associated costs – fuel and nonfuel – as well as the customer service requirements for each route. Once a fuel plan is created, Fuel&Route sends the fuel plan to the driver through mobile communications. It also can enforce the fuel plan by locking down fuel cards to the recommended fuel stops in sequence.
IDSC ExpertFuel by TMW Systems, a client-server product that is integrated with the major dispatch and enterprise management systems, is designed to automatically generate an optimal route and a specific plan for fueling for each dispatch.
The fuel plan includes the location and amount of fuel to purchase at each stop and takes into account current fuel prices, state tax implications, volume commitments for fuel networks and fleet policies for terminal fueling.
ProMiles offers fuel optimization for no extra cost in its ProMiles XF truck mileage and routing package for both online and client-installed versions.
Managing bulk fuel
Another strategy for saving fuel costs is to purchase fuel in bulk for terminal locations. Carriers typically realize savings of 10 to 20 percent in fuel costs with bulk fuel, says Ryan Mossman, vice president and general manager of fuel services for FuelQuest, a company that provides software and outsourced services to large fuel buyers.
FuelQuest creates fuel supply portfolios for carriers' bulk fuel. One of its customers, YRC Worldwide, buys about 70 percent of its fuel in bulk for its nationwide terminal locations. The Overland Park, Kan.-based company uses FuelQuest's Fuel Center software system as its fuel purchasing platform. The system also manages inventory levels at each site and automates and centralizes all fuel orders, shipment notifications to carriers and payments to fuel suppliers and carriers.
YRCW has annual fuel contracts with fuel prices tied to an index, such as OPIS. Fuel Center verifies that the invoiced amounts from fuel suppliers match its contract rates. "We didn't have a strong reporting platform prior to FuelQuest," says Laura Rome, manager of procurement at YRC Worldwide.
Understanding all of the intricacies of fuel markets is not required to save significant money in fuel costs. By using technology and strategic fuel-buying programs, carriers can save money at the pump and establish ongoing performance improvement targets.
Fueling up without a card
New fuel purchasing systems arriving at truckstops
New technologies are being implemented by truckstops to improve fuel security and purchasing controls. These new technologies use cardless systems to activate fuel transactions.
In October, TCH and Zonar Systems unveiled the Z-Con system that will be installed at Pilot Flying J and other participating truckstops throughout the United States and Canada. These devices will interface with Zonar devices installed in trucks operated by Z-Con customers to ensure that the truck that is positioned at the fuel pump is the truck the company has authorized to use the fuel card, thereby preventing fuel theft.
The Z-Con system combines ultrasonic and infrared technologies with vehicle telematics. As a vehicle approaches a Z-Con fueling island, an ultrasonic sensor detects the presence of the truck, activating the radio in the fuel canopy and an infrared transmitter. Once the infrared transmitter and receiver in the truck are aligned, an LED on the windshield tells the driver that authorization is in progress. After the VIN has been validated, the LED indicates that the driver is authorized to begin fueling.
QuikQ's DFConnect enables carriers to use one database to set fuel purchase policy by truck, trailer and driver. Instead of swiping a magnetic card at the pump, drivers can request a fuel transaction by sending a macro from an onboard computing and wireless communications system.
From the macro, a fleet's dispatch and operational software will know the truck number, the driver, whether or not the driver is en route and how many gallons have been consumed since the last fuel transaction. Using these and other fuel parameters, a fleet dispatch system will interface with DFConnect to create a purchase order that will be sent electronically to the financial institution a carrier uses for settlement of fuel transactions.
DFConnect includes a truckstop component called the Fuel Island Manager that features an automated pump activation system with radio frequency identification; an RFID reader at the pump identifies vehicles by the transponder on the windshield. FIM will be sold separately to truckstops and will process fuel transactions from DFConnect and existing card payment systems.
Carriers will not incur transaction fees to use DFConnect, as QuikQ intends to charge truckstops, not carriers, for use of the technology, says Ernie Betancourt, QuikQ president. n