CSA goes live with new name
Most motor carriers unranked in new SMS
With a federal appeals court clearing the way, the Federal Motor Carrier Safety Administration flipped the switch Dec. 12 on its long-awaited new enforcement initiative and renamed it the Compliance Safety Accountability (CSA) program. Previously, CSA had been called Comprehensive Safety Analysis 2010. On that date, FMCSA replaced SafeStat, which the agency had used for more than a decade, with the Safety Measurement System (SMS). FMCSA on Dec. 12 uploaded November SMS data to its Analysis & Information website (https://www.ai.fmcsa.dot.gov/sms).
The CSA launch came as the U.S. Court of Appeals for the District of Columbia rejected an effort to block the program or at least the public release of CSA metrics. On Nov. 29, three associations representing motor carriers – the National Association of Small Trucking Companies, The Expedite Alliance of North America and the Air & Expedited Motor Carriers Association – had asked the court to grant an emergency stay to block the data release at least until the agency completed a full rulemaking. The groups argued, among other things, that due to fears over crash liability, shippers and brokers likely would stop using carriers that had alerts in the SMS and that for practical purposes the rankings and alerts represented safety fitness determinations.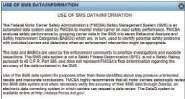 In response, FMCSA told the appeals court that the groups' claims of disastrous consequences were without merit and that fundamentally the SMS data to be made public was no different than SafeStat data that has been public for more than a decade.
"Petitioners have not satisfied the stringent standards required for a stay pending court review," a three-judge panel of the federal appeals court said in its order. The court did not elaborate except to cite one court case and the court's own handbook of procedures. The lawsuit will now proceed under the normal process of briefing.
A fraction of all carriers
According to a CCJ analysis of the November SMS data, barely 12 percent of motor carriers are ranked in any of the five Behavior Analysis and Safety Improvement Categories (BASICs) that are disclosed to the public. (The Cargo-Related and Crash Indicator BASICs are, for now, withheld from the public due to agency concerns that the data could be misleading.) FMCSA plans to use rankings to target interventions under its new graduated process, which starts with warning letters and escalates potentially to full-blown compliance reviews.
Of the 92,184 carriers that are ranked in at least one BASIC, 52,967 carriers have at least one alert, meaning they exceeded the threshold for intervention. The Fatigued Driving BASIC has the greatest number of alerts at 29,207, followed by the Vehicle Maintenance BASIC at 21,791. The Controlled Substances BASIC had the fewest alerts at 3,605. And while more than 705,000 carriers have no alerts at all, 164 carriers have alerts in all five public BASICs.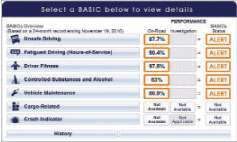 The majority of carriers are unranked because FMCSA set minimum thresholds of inspections to be considered within BASIC safety event groups. Those floors vary, but generally carriers must have three to five inspections in the past 24 months to be ranked in a BASIC.
Carriers can draw an alert, however, without exceeding the percentage threshold in the BASIC or even without being ranked at all. A serious violation within 12 months also can lead to an alert. A serious violation is one in which non-compliance is so severe that immediate corrective action is necessary or the violation directly relates to the carrier's management and/or operational controls, FMCSA says.
Most alerts are attributable to exceeding the percentile ranking, but that's not true in the Controlled Substance BASIC. More than 3,000 of the 3,605 alerts in that BASIC result from serious violations.
What happens now?
The litigation surrounding CSA is not over. The appeals court ordered the three groups suing FMCSA to file their initial briefs in the case by Feb. 7. FMCSA would have until March 9 to respond.
Meanwhile, the American Trucking Associations has asked the agency to make a number of changes to ensure that BASICs accurately predict crash risk.
"Until FMCSA can confirm that the system accurately identifies unsafe carriers in a category, it is inappropriate to make carriers' scores in that category publicly available, as they may erroneously label safe, responsible carriers as unsafe," said Boyd Stephenson, ATA's manager of safety & security operations. To improve the link between BASICs scores and crash risk, ATA recommends that FMCSA:
• Modify severity weights so that they more accurately reflect crash risk;
• Control for risk disparities among "generic" violations (situations where violations of varying degrees are lumped together);
• Ensure industry segments are compared against their peers; and
• Test the system to ensure that it accurately identifies carriers that are unsafe.
As CCJ went to press, FMCSA had not yet responded to ATA's letter. As the agency has told other parties raising concerns with CSA, FMCSA could be planning to address ATA's recommendations as part of the rulemaking needed to use SMS data for monthly safety fitness determinations. The agency doesn't expect to issue a notice of proposed rulemaking before August.
For details on the litigation over CSA and for ongoing coverage of the program, go to www.ccjdigital.com/csa-news.
IN BRIEF
* Truck drivers would be barred from using handheld cell phones while operating commercial motor vehicles under a rule proposed last month by the Federal Motor Carrier Safety Administration. For details, go to www.regulations.gov and search FMCSA-2010-0096.
* The American Trucking Associations blasted the Obama administration's decision to scale back the federal offshore leasing program to limit domestic oil and gas exploration.
* FMCSA ordered RLT Tours to cease operations after a compliance review found the Pennsylvania-based charter bus company in violation of multiple federal safety regulations.
* TransForce struck a deal to buy Dallas-based Dynamex for $248 million. The deal, expected to close early this year, came after Dynamex terminated a merger agreement with a Greenbriar Equity Group affiliate.
* FedEx Corp. acquired MultiPack, a Mexican domestic express package delivery company, enhancing FedEx's capabilities in the Mexican domestic market.
* Vitran, a Toronto-based less-than-truckload company, sold select assets of Frontier Transport Corp. to Indianapolis-based Online Transport.
* USA Dry Van Logistics, based in McAllen, Texas, has emerged from bankruptcy protection owned by a conglomerate of lenders and creditors.
*Ryder System acquired Supervalu subsidiary Total Logistic Control and the full-service lease, contract maintenance, commercial rental and dedicated contract carriage businesses of Fontana, Calif.-based The Scully Companies Inc.
CARB relaxes some diesel engine, GHG rules
As expected, the California Air Resources Board last month modified several regulations related to on- and off-road diesel engines – in most cases to grant some relief to financially challenged industries such as trucking and construction. In the case of the port truck regulation, however, the board made existing rules somewhat more stringent, mirroring action also taken last month by the Los Angeles Harbor Commission.
In a separate action, the board changed several aspects of regulations aimed at reducing greenhouse gases (GHGs) by requiring that certain long-haul operators adopt various fuel-saving technologies.
The diesel engine changes follows 20 public workshops held by CARB staff over the past year to solicit stakeholder input and discuss options for revising diesel control measures affecting commercially owned trucks, buses, port trucks, tractor trailers and off-road vehicles, including construction and large-spark ignition equipment. In addition, changes in off-road rules follow a negotiated settlement between CARB and the Associated General Contractors.
Specific changes to regulations:
Statewide on-road truck and bus regulation
Requires a phase-out of pre-2010 diesel engines. Changes:
• Reduce overall compliance costs by about 60 percent as California recovers from the recession;
• Exempt about 150,000 lighter trucks from having to retrofit with particulate filters;
• Delay initial compliance date for the retrofitting of heavier trucks and allow them to operate another eight years before being required to use a truck that meets 2010 emissions standards; and
• Expand credits for fleet downsizing, adding cleaner vehicles ahead of any regulatory requirements, and for installation of early retrofits.
Port truck regulation
www.arb.ca.gov/msprog/onroad/porttruck/porttruck.htm
Requires low-emissions diesel technology specifically on trucks that operate at ports and rail yards: Changes:
• Assure that all trucks serving the ports, including the smaller Class 7 trucks, will have diesel particulate filters by 2014; and,
• Expand the regulation to include trucks operating outside port or rail yard properties to prevent non-compliant trucks from receiving cargo from clean trucks in those areas.
Off-road regulation
Requires adoption of low-emissions diesel technology on off-road vehicles. Changes:
• Delay implementation for all fleets by four years;
• Reduce costs by 97 percent in next 5 years;
• Expand or extend credits for businesses that comply before their deadline or have downsized; and,
• Ease annual requirements to clean up engines (e.g., small fleets can extend phase-out period for oldest equipment over 10 years, from 2019 to 2029).
Heavy-duty diesel GHG reduction measure
www.arb.ca.gov/cc/hdghg/hdghg.htm
Requires fleets operating in California to use tractors and trailers that are either SmartWay certified or retrofitted with SmartWay verified aerodynamic devices and low rolling resistance tires. Changes:
• Extend the deadline for installation of low rolling resistance tires by one year on pre-2011 model year tractors and four years on pre-2011 model year trailers;
• Exempt open shoulder drive tires;
• Allow an optional second trailer retrofit compliance schedule for large fleets;
• Provide additional reporting flexibility;
• Exempt storage trailers and provide limited relief from trailer requirements in certain situations, including relocation of local-haul trailers, transfer of trailer ownership and operation of non-compliant trailers that enter the state no more than once a year;
• Delay compliance for certain trailers for which SmartWay-verified technologies currently aren't compatible and allow modification of technologies for "non-typical" trailers; and
• Delay compliance provision for 2009 model year refrigerated van trailers.