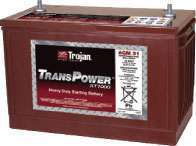 Heavy-duty starting battery
Trojan Battery Co.'s TransPower ST1000 is a high-performance AGM 31 heavy-duty starting battery built specifically for demanding applications. The sealed maintenance-free ST1000 is engineered for rugged durability, outstanding cranking power and long battery life. A heavy-duty plate design is engineered with a combination of high-density paste and a thick corrosion-resistant wire grid arranged in a sunburst-array architecture designed to guide the battery's power to a focal point of charge, resulting in 1,000 cold cranking amps. The plate design also tolerates extreme weather conditions and high underhood temperatures, while the high-density paste formulation is designed to optimize density, porosity and surface area to balance power and longevity. The battery is packaged in a thick-walled durable polypropylene case rigid to help keep the internal components of the battery compressed and help protect the plates from damage from shock and vibration; the case also is designed to resist against engine oil, gasoline and other road chemicals.
Trojan Battery
Visit www.ccjdigital.com/info

Tire Changer
Hunter's Auto28 tire changer includes features, automated functions and a high-torque motor to service wheel designs from 10 to 28 inches in diameter. The tire changer's proprietary tool head design automatically slips between the rim edge and tire sidewall and extracts the bead gently in one fluid down-and-up motion without the use of bead levers. The electric motor exerts more than 850 foot-pounds of torque to mount stubborn beads, and the variable-speed drive system provides the ability to control the amount of force needed to service a wheel at the most efficient speed, while safeguarding against damage. The center-support clamping table and self-centering quick clamp give the Auto28 the flexibility to mount a wide variety of wheel designs easily with the same clamping technique; the cam action of the clamping support multiplies the clamping force, automatically immobilizing the rim during mounting and demounting operations to help prevent slippage.
Hunter
Visit www.ccjdigital.com/info

Protective Cases for Portable Devices
OtterBox now has protective cases for the BlackBerry Bold 9780 smartphone, Droid X by Motorola and HTC EVO 4G. Options for the BlackBerry include the single-layered skin-style Impact Series case, which is crafted to dissipate impact away from the device and has inner coring and a self-adhering screen protector; the on-the-go Commuter Series, which includes a soft silicone layer, a one-piece custom-molded polycarbonate shell and

a self-adhering screen protector; and the Defender Series, which combines three layers of fortification, including a thin membrane over the display screen and keypad, a high-impact polycarbonate shell and a silicone skin to help absorb bump and shock. The Defender Series includes a holster-style swivel belt clip and also is available for both the Droid X and EVO 4G, while the Commuter and Impact Series is available for the Droid X.
OtterBox
Visit www.ccjdigital.com/info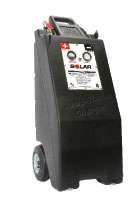 Jump starter with onboard air compressor
Clore Automotive now offers Solar's Model No. 3001 12V commercial jump starter with an onboard air compressor. The multipurpose unit is designed to provide jumps and convenient delivery of air for fleet operations, auto lots, auction houses, implement dealerships and other environments with high vehicle counts.
Clore Automotive
Visit www.ccjdigital.com/info
CNG valve with filter
Parker Fluid Control Division's CNG Natural Gas Valve Integrated With Filter is suited for downstream valve installations in compressed natural gas-powered transportation. The high-pressure high-flow low-leakage valve is designed for CNG fuel dispensing systems with single- and multi-tank applications. The added filter helps remove impurities from the natural gas as well as any particulates downstream of the valve, while its high-flow rate allows operators to use a single CNG valve for two tanks instead of dedicating a separate valve for each tank. The enhanced CNG valve, which also features improved sealing performance for greater reliability, is designed to withstand high pressures from 0 to 4,500 psi; for increased safety and reduced environmental impact, the valve is designed with bubble-tight leakage at 0 psi. The valve, which can operate in a maximum ambient temperature of 170 degrees Fahrenheit, runs on 12V DC and has a current draw of 1.64 amps.
Parker Fluid Control Division
Visit www.ccjdigital.com/info
Upgraded digital monitors for camera systems
Mobile Awareness has upgraded the high-resolution digital monitor for both its VisionStat wired and wireless color camera systems for vehicle blind-spot detection. Each of the digital VisionStat systems is available with either a 5.6-inch or 7-inch color LCD monitor. The digital monitor is configurable with up to four infrared night-vision CCD cameras for improved user visibility. The new digital monitor also is contained in VisionStat Plus, an advanced safety solution that integrates the SenseStat Obstacle Detection Sensor System directly into the wired VisionStat Camera System with no additional wiring required. The combined features allow for both an active audible warning and a passive visual confirmation via a CCD camera, which provides the advantage of viewing a rearview camera image superimposed with the actual distance measurement (accurate to 1 inch) to the closest object within any of four sensor zones.
Mobile Awareness
Visit www.ccjdigital.com/info
Inverter, shorepower kits for no-idle system
Climate system provider Bergstrom now offers Tundra inverter and shorepower kits to add shorepower and hotel load capabilities to its Nite no-idle systems. The Nite systems incorporate an independent battery power source to provide electric service for climate control, which helps drivers reduce emissions and comply with anti-idling laws while saving money on fuel. The shorepower feature, which allows drivers to connect their parked truck to grid electricity when available, includes an extension cord and a switching box that automatically detects 110V AC power, and provides the vehicle with both AC and 12V DC power.
Bergstrom Inc.
Visit www.ccjdigital.com/info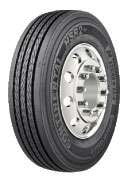 SmartWay approved tires
Continental Tire the Americas' steer and all-position HSR2 SA (Heavy Steer Regional, Special Application) tire for the recreational vehicle and regional bus segment is designed to maximize fuel efficiency on regional roads through advanced tread design and compounding. The tire – verified by the U.S. Environmental Protection Agency SmartWay Transport Partnership as a low rolling-resistance truck tire when used in line-haul steer positions – features customized tread geometry that aids in water evacuation to maximize wet traction while reducing stone retention that can damage the tire's casing. A five-rib tread design helps balance pressure distribution, while the company's proprietary VAI+ visual alignment indicator system helps ensure even wear. The VAI+ system is a series of sipes that helps detect faulty alignment conditions by allowing early detection of wear differences between the shoulder ribs; the feature also indicates tread wear by changing from a plus sign to a minus at 8/32 inches of tread wear, and then disappearing at 4/32 inches. The HSR2 SA is available in sizes 275/80R22.5, 295/80R22.5 and 315/80R22.5.
Continental's HDR1 Eco Plus is a drive tire suited for local pickup-and-delivery fleets that require a true open shoulder design for optimal traction in inclement weather, yet need the on-highway fuel efficiency of a truck tire verified by SmartWay for low rolling resistance. The HDR1 Eco Plus keeps the same open shoulder design and reduced stone retention from the original HDR1 model, and now includes a lug angle designed to resist irregular wear over the extended lifetime of the tire; a high-endurance tread design with grooves that help reduce stone retention; and advanced fuel-efficient tread compounding.
Continental Tire the Americas
Visit www.ccjdigital.com/info
Wheel polishing machine upgrade
Vehicle Inspection Systems has upgraded the software for its VIS-Polish automated wheel polishing machine. Version 3.0, fully compatible with all existing VIS-Polish machines, now includes sectional sanding programming designed to allow users to accurately apply sanding to areas on a wheel that need refurbishing, speeding cycle times and providing a better finish by concentrating on areas with scratches and pitting. A second benefit is longer sanding wheel life, saving consumables as well as time. VIS-Polish is designed to shine and provide a long-lasting finish to aluminum vehicle rims on heavy-duty trucks and buses, increasing service margins while reducing labor costs. The device contains the polishing operation in an enclosed unit.
Vehicle Inspection Systems
Visit www.ccjdigital.com/info

Air ratchets
Snap-on's 3/8-inch drive air ratchets (FAR72C and FAR7200) deliver 65 ft.-lbs. at 225 rpm and have "stop lock" pins to help prevent ratchet pawl lockup, with dual pawls for smoother operation and performance. Steel wear bushings help prevent ratchet head wear, while a variable speed trigger provides added comfort and control. A zerk fitting in the selector knob allows ratchet head lubrication for longer tool life, while a tip valve-style trigger provides featherability and versatility. The FAR7200 also features a muffler bypass that allows the tool to be used in quiet mode (50 ft.-lbs. at 200 rpm) or full power (70 ft.-lbs. at 260 rpm), as well as a cushion-grip handle for added comfort and control.
Snap-on
Visit www.ccjdigital.com/info
Anti-corrosion protection for reman brake shoes
Elite Brake Co. has added DiamondCote anti-corrosive protection to its remanufactured brake shoes to help eliminate problems associated with rust-jacking. DiamondCote, which helps provide improved rust protection over standard remanufactured brake shoe paint, is a 12-step cathodic electrostatic coating process designed to clean and free the brake shoe of imperfections, followed by another procedure that employs the particle-attracting property of electrostatic charges to coat the metal surface.
Elite Brake Co.
Visit www.ccjdigital.com/info
Lift truck series
The four models in Linde Material Handling-North America's 1313 Series of hydrostatic drive cushion-tire lift trucks are LPG-powered and have capacities ranging from 5,000 to 6,500 pounds for severe applications, with a frame constructed of ½-inch steel and 5/8-inch cross-bracing. The hydrostatic drive system transfers power from the engine to the wheels, making the lift trucks suitable for earthmoving, logging, construction and mining. The system, with no clutch or friction-service brakes, is designed to manage the adverse effects of ramps, dust, heat, humidity, pushing, shoving and bulldozing. Other features include:
• LPG engine technology, which provides high torque, low fuel consumption and low emissions;
• Twin drive pedals for a quick change of forward/reverse directions with the short pedal stroke;
• LTC (Linde Truck Control), which features microprocessor control technology matched to individual application requirements with automatic control of engine RPM;
• LLC (Linde Load Control), which facilitates accurate, safe load handling and effortless fingertip control of all hydraulic functions; and
• A spacious cab that provides added legroom, visibility of load and surroundings, noise abatement and reduced road shock thanks to a cushioned steer axle.
Linde Material Handling-North America
Visit www.ccjdigital.com/info
Trip inspection tool
Unique Truck Equipment and JustinTime Tools have announced a distribution agreement whereby UTE will distribute "The Pocket Inspector," a tool to assist mechanics and drivers with their pre- and post-trip inspections and encourage Compliance Safety Accountability (CSA) compliance. The 4-in-1 tool is designed to check brake stroke, tire tread depth and brake shoe thickness, and also to measure windshield cracks.
Unique Truck Equipment
Visit www.ccjdigital.com/info
Low-viscosity oil
Elixion from Castrol Heavy Duty Lubricants is a low-viscosity SAE 5W-30 engine oil formulated to meet the CJ-4 specification and provide improved fuel economy. The thinner oil focuses on reducing "parasitic loss," or friction within the engine, and also contains a robust additive package formulated to allow for extended drain intervals. Elixion also offers cold temperature wear protection due to its faster flow properties at low temperatures, as well as added protection against intense heat from newer diesel engines.
Castrol Heavy Duty Lubricants
Visit www.ccjdigital.com/info