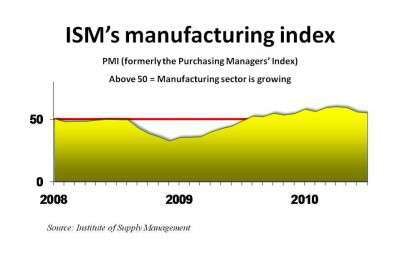 Economic activity in the manufacturing sector expanded in December for the 17th consecutive month, according to the Institute for Supply Management's monthly survey of U.S. supply executives. The PMI — ISM's composite index of manufacturing activity — stood at 57 percent in December, up from 56.6 percent in November.
Perhaps even more encouraging for trucking executives are the indexes for the new orders and production components of the PMI. The index of new orders was up 4.3 points to 60.9 percent, while the production index was up 5.7 percent to 60.7 percent.
"The manufacturing sector continued its growth trend as indicated by this month's report," says Norbert Ore, chairman of ISM's Manufacturing Business Survey Committee. "We saw significant recovery for much of the U.S. manufacturing sector in 2010. The recovery centered on strength in autos, metals, food, machinery, computers and electronics, while those industries tied primarily to housing continue to struggle." Manufacturers that export have benefitted from both global demand and the weaker dollar, Ore said.