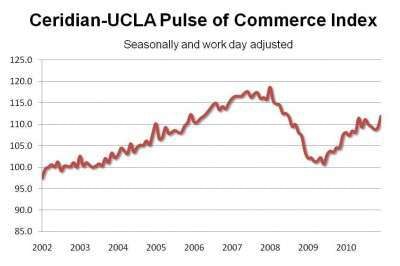 Freight activity surged in December, offsetting — along with a small rise in November as well — three months of decline in August-October, according to the Ceridian-UCLA Pulse of Commerce Index (PCI). The PCI, which measures the flow of goods to U.S. factories, retailers and consumers, rose 2.4 percent in December, pushing the PCI above its previous 2010 peak set in May. Combined with November's 0.4 percent increase, the December surge was sufficient to offset three previous consecutive monthly decreases.
"The latest PCI data further evidences the positive economic sentiment felt since the start of the New Year," explained Ed Leamer, chief PCI economist and director of the UCLA Anderson Forecast. "However, we have not entirely escaped the summer doldrums as the three-month moving average is still below its July 2010 level."
On a year-over-year basis, the PCI increased 4.1 percent in December. And December's growth came on top of a very strong year-ago performance while the previous eleven months of year-over-year growth in 2010 were up against relatively weak prior-year comparisons.
Much of the December PCI increase is attributable to the fact that the week between Christmas and New Years was stronger than usual. Even though December overall was three percent below the previous December peak month in 2007, diesel fuel purchases in the inter-holiday week exceeded 2007 levels.
"This is partly a consequence of Christmas and New Years falling on weekends, but also likely reflects inventory replenishment driven by a combination of consumption and restocking as the country's mood elevated regarding growth in 2011," said Craig Manson, senior vice president and index expert for Ceridian.
The Ceridian-UCLA Pulse of Commerce Index is based on real-time diesel fuel consumption data for over the road trucking and serves as an indicator of the state and possible future direction of the U.S. economy. The complete December report and additional commentary are available at www.ceridianindex.com.