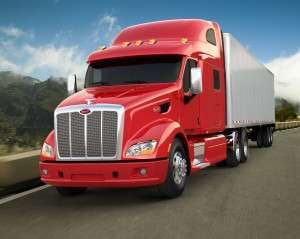 Peterbilt Motors Co. announced it has received an order for 1,000 Model 587 SmartWay-certified trucks from truckload carrier U.S. Xpress Enterprises. Peterbilt says the new Model 587 features a number of aerodynamic enhancements, technological and safety innovations and serviceability improvements for maximum performance.
Headquartered in Chattanooga, Tenn., U.S. Xpress Enterprises provides a wide variety of transportation solutions throughout North America and is committed to minimizing its environmental impact by being a U.S. Environmental Protection Agency SmartWay Transport Partner. The company says it also is dedicated to being at the forefront of safety compliance, using comprehensive training for its staff and drivers and ensuring its trucks feature the latest safety innovations.
The new Model 587 has earned the Environmental Protection Agency's (EPA) SmartWay certification and has been recognized as fuel-efficient and environmentally friendly. The SmartWay program has established a comprehensive set of fuel-saving, low-emission equipment specifications for new Class 8 long-haul tractors and trailers. The Model 587 offers customers fuel savings, lower greenhouse gas emissions, and significantly reduces NOx, particulate matter and other air pollutants.