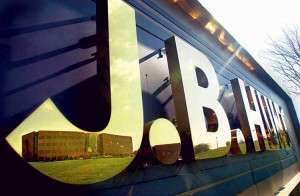 J.B. Hunt Transport Services on Friday, Jan. 28, reported fourth-quarter profit of $57.9 million during the period ended Dec. 31 compared with earnings of $41.7 million from the year-ago timeframe, while revenue climbed 16 percent to $1.02 billion from $877 million. For the full year, net income rose to $199.6 million from $136.4 million in 2009, and revenue climbed to $3.79 billion from $3.2 billion.
"We are generally pleased with the year's progress of all of our businesses, given the sluggish and prolonged macroeconomic conditions under which we operate," said John Roberts III, president and chief executive officer of Lowell, Ark.-based J.B. Hunt. Roberts credited the company's intermodal transportation unit and a mix of new contracts, an improved business climate and a better pricing environment.
J.B. Hunt also announced that it has increased the number of seats on its board of directors and has elected William Shea Jr. to fill the vacancy created by the addition. Shea, 56, founder of Kelley Transportation Services in 1984, currently serves as its president.
Shea was also the founder and president of Bay Cities Leasing before it was sold to General Electric Credit Corp. in 2004. He has served as vice president of marketing for Brae Corp. Rail Division from 1983–1984, director of marketing of Itel Corp. Rail Division from 1979-1983 and marketing representation for IBM Corp. GSD from 1977-1979. He currently serves on the board of the International Transportation Institute of the University of Denver, and served as a director on the board of Interpool Corp. from 2004-2008.