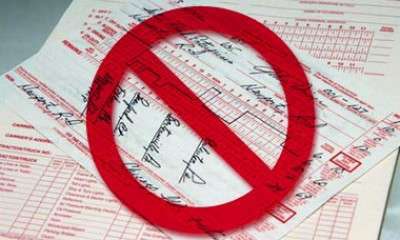 All interstate commercial truck and bus carriers that now use logbooks to track compliance with hours-of-service regulations would have to use electronic onboard recorders instead under a proposed regulation issued by the Federal Motor Carrier Safety Administration Monday, Jan. 31. The proposal would relieve carriers of the current requirement to retain certain HOS documents, such as delivery and toll receipts, that are now used to verify the number of hours the vehicle is in operation. Approximately 500,000 carriers would be affected by the proposed rule, FMCSA said.
Last year, the U.S. Court of Appeals for the District of Columbia ordered FMCSA to issue a notice of proposed rulemaking (NPRM) on HOS supporting documents by yearend. In December, the court gave the agency another month — until Jan. 31 — to comply. The court order stemmed from a lawsuit the American Trucking Associations filed just over a year ago to compel FMCSA to move forward with a regulation as mandated by Congress in the mid-1990s.
By the time ATA filed its lawsuit, FMCSA had already announced that it was planning to link new regulations on supporting documents to an expansion of the EOBR mandate. In April 2010, FMCSA issued a final rule requiring carriers that have a history of serious log violations to install EOBRs. That rule takes effect in June 2012.
"We cannot protect our roadways when commercial truck and bus companies exceed hours-of-service rules," Transportation Secretary Ray LaHood said yesterday. "This proposal would make our roads safer by ensuring that carriers traveling across state lines are using EOBRs to track the hours their drivers spend behind the wheel."
Interstate carriers that currently use records of duty status (RODS) logbooks to document drivers' HOS would be required to use EOBRs. Short-haul interstate carriers that use timecards to document HOS would not be required to use them. Carriers that violate this EOBR requirement would face civil penalties of up to $11,000 for each offense. Noncompliance would also negatively impact a carrier's safety fitness rating and DOT operating authority.
"This proposal is an important step in our efforts to raise the safety bar for commercial carriers and drivers," said FMCSA Administrator Anne Ferro. "We believe broader use of EOBRs would give carriers and drivers an effective tool to strengthen their HOS compliance."
Last year, U.S. Sens. Mark Pryor (D-Ark.) and Lamar Alexander (R-Tenn.) introduced legislation that would have required all interstate carriers to use EOBRs. The measure won the support of a new coalition, The Alliance for Driver Safety & Security, that was formed by five large trucking companies: J.B. Hunt, Knight Transportation, Maverick USA, Schneider National and U.S. Xpress. The bill died at the end of the 111th Congress. In its Jan. 31 press release, FMCSA listed those five carriers as examples of those using EOBR technology.
The proposal and information about how to submit comments is available by clicking here. This proposed rule also continues the Department of Transportation's partnership with Cornell on the e-Rulemaking Initiative. For more information, go to www.regulationroom.org.