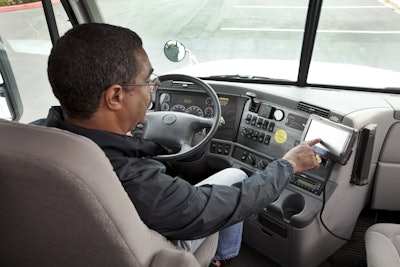 Qualcomm Inc., a provider of integrated wireless systems, applications and services to transportation and logistics companies, announced the Mobile Computing Platform 50 (MCP50), designed to deliver Qualcomm's applications and is designed to help transportation companies manage fleet safety and regulatory compliance proactively and cost-effectively. Qualcomm also announced a collaboration with ALK Technologies, a provider of mobile navigation solutions, making ALK's CoPilot Truck onboard truck-specific GPS navigation solution available to Qualcomm customers.
The MCP50 offers flexible pricing plans that bundle key applications to solve specific business needs, and it is slated for commercial availability in the fall. Qualcomm says the MCP50 will deliver applications and features to help fleets proactively monitor and manage compliance, while also reducing costs associated with fleet safety and operations. The solution includes:
• Hours of Service, a Federal Motor Carrier Safety Administration-compliant electronic onboard recording system (EOBR);
• Compliance Safety Accountability Safety Performance Service to help fleets manage their performance under FMCSA's new SMS scoring methodology;
• Critical Event Reporting with dashboards to track and improve driving performance;
• Onboard navigation designed to offer increased productivity, cost savings and enhanced driver satisfaction;
• Analytics Manager designed to deliver actionable information on operational performance in easy-to-use dashboards, graphs and tables to enable timelier and more informed business decisions; and
• Vehicle location tracking to improve efficient fleet operations.
The MCP50 is designed to be easy for fleets to adopt and to be simple to install, and has intuitive back-end functionality. The Basic, Compliance, Safety and Compliance and Premium pricing plans offer transportation companies a choice of cost-effective bundled applications. Additional applications will be available for those fleets with more extensive needs.
"Fleets that may not have previously adopted mobile information technology are now recognizing the value these systems provide in efficiently managing safety and regulatory compliance," says Norm Ellis, vice president of sales, services and marketing for Qualcomm Enterprise Services. "When implementing a cost-effective system such as the MCP50, these fleets will realize the variety of additional benefits, including improved asset management, timely and reliable two-way information sharing, improved fuel efficiency and truck-specific navigation."
A key feature of the MCP50 designed to improve safety compliance is Qualcomm's In-Motion User Interface (IMUI), which helps minimize driver distraction by restricting the visual displays that drivers can see while the vehicle is in motion. Based on the driver's log-in status, the IMUI disables the ability to type or read messages when the vehicle is in motion. The MCP50 also incorporates a text-to-speech feature so drivers can receive and listen to messages without having to pull off the road. All applications are integrated so the system will automatically display the application with the most time-sensitive information to the driver in the least distractive way.
ALK's CoPilot Truck will be the standard navigation application on the MCP50 and will be one of the navigation options available to fleets with the Mobile Computing Platform 110 (MCP110) and Mobile Computing Platform 200 (MCP200). CoPilot Truck uses street-level ALK Digital Maps of the United States and Canada, which are enhanced with PC Miler truck-specific attributes to help reduce fuel expense and out-of-route mileage cost-effectively.
"We are pleased to be offering ALK's highly customizable and cost-effective in-cab navigation application for our customers," Ellis says. "By collaborating with leading providers of best-in-class technologies, we can offer our customers the most valuable and comprehensive fleet management solutions in the industry."
CoPilot Truck is designed to provide drivers with optimal truck-legal routes based on their vehicle profile information, routing parameters and load-specific information, including hazmat categories. It also is designed to offer an easy-to-use intuitive driver interface with spoken turn-by-turn directions and extensive customization options.
"We are excited to collaborate with Qualcomm to bring CoPilot Truck to its substantial customer base," says Michael Kornhauser, managing director of CoPilot Solutions at ALK Technologies. "By combining Qualcomm's powerful Mobile Computing Platform Series with our proven truck-specific navigation technology, fleets can dramatically improve operational efficiency and achieve significant productivity gains."
Benefits available to Qualcomm customers include:
• Safe, accurate and truck-legal turn-by-turn navigation;
• Automatic avoidance of truck-restricted routes using customizable vehicle profiles that specify vehicle height, length, width and cargo type (including hazardous materials);
• Route categories including Practical, Shortest, National Network, 53' Trailer and Toll Avoidance;
• Load-specific routing with 30 hazmat road classes and categories;
• Clearly displayed route restrictions with recognizable warning symbols;
• Driver alerts about upcoming hazards, visual and spoken in-route alerts and instant detour options;
• Millions of Points-of-Interest, including truck-specific categories like truck services, truckstops, rest areas, CAT scales and weigh stations; and
• Operational consistency with PC Miler customers' driver pay, rating, billing and fuel tax reporting practices.