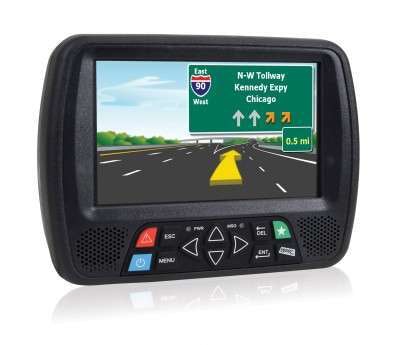 Rand McNally on Sunday, March 13, introduced significant enhancements to its TruckPC mobile communication system at the Truckload Carriers' Association Annual Convention. Rand McNally also announced that its MileMaker and IntelliRoute transportation software products have been upgraded with advanced routing capabilities and newly available data designed to add profitability to the bottom line.
TruckPC is a fully compliant electronic onboard recorder designed to automatically track and manage hours of service to meet new Compliance Safety Accountability requirements. TruckPC provides navigation, enhanced behavior- and truck-monitoring systems, workflow, in-cab video training, two-way communication, an improved and easy-to-use back-end monitoring system and onboard scanning.
"We knew when we took an ownership stake in DriverTech last fall that they had a great product," says Dave Muscatel, chief executive officer of Rand McNally. "These latest enhancements, including the integration of Rand McNally's award-winning IntelliRoute TND software, make it that much better. We are very excited about the value proposition we can bring to customers."
Rand McNally's TruckPC, introduced in October 2010, is the first in a line of products anticipated from the joint development agreement between Rand McNally and DriverTech. TruckPC upgrades include:
• Fully integrated navigation and truck tool features from Rand McNally: Proprietary truck-specific routing, points of interest, road construction, turn-by-turn directions and mileage calculation capabilities now are fully integrated into the TruckPC;
• Driver behavior monitoring: Enhanced warnings alert drivers to sharp curves, steep hills, speed limit changes, state boundaries, road construction, time zone changes and on/off duty changes. Over Speed Limit Indicator changes with the designated speed limit for the road segment. All of these events can be reported back and analyzed;
• Workflow: Step-by-step instructions customized for events such as pre-trip inspections, or customer service with location-specific procedures. Workflow enables a company to manage complex tasks with confirmation of completion from the driver;
• Performance Stability: Upgraded hardware with 1.6 GHz processor and solid-state hard drive eliminates moving parts, enhancing the performance stability of the unit. The latest Windows embedded software ensures that this unit will be current as software technology evolves;
• Mapping enhancements to FleetWatcher: The back-end monitoring and analysis tool now includes interactive satellite mapping.
Rand McNally says the latest MileMaker and IntelliRoute enhancements include:
• 14,000 Mexican Postal Codes: The codes allow companies to calculate mileages and arrival times with much more specificity throughout North America;
• Multistop Dock-to-Dock Route Optimization: This tool allows companies to import complex delivery schedules to optimize the routes, taking advantage of appropriate truck-specific roads. Multistop Routing maximizes asset utilization and reduces cost per mile; and
• Enhanced Spreadsheet Export: Managers can analyze lanes based on true lane costs – including highest-cost tolls – and export to a Microsoft Excel report, providing simple audit materials.
"The close partnership that Rand McNally enjoys with our customers enables us to stay close to their needs and design products that increase profitability for them," Muscatel says. "For example, Mexican Postal codes allow carriers to more accurately plan routes and bill shippers, capturing significant dollars that were left on the table when using the city/state origin and destination method. The combination of multistop routing and street-level detail help local and regional carriers optimize their routes, saving time and fuel."