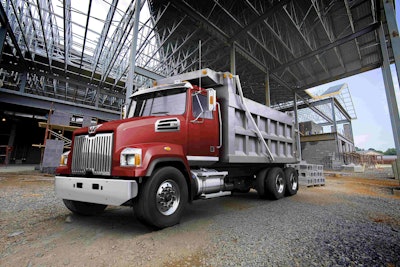 Western Star Truck Sales on Tuesday, March 8, introduced its all-new Class 8 vocational truck, the Western Star 4700. The company says the 4700, combined with its 4900 and 6900 truck models, provides customers with a full range of truck options to suit any need. Available in a set-forward and set-back configuration, the 4700 features a 110-inch BBC and is suited for dump, mixer, crane, roll-off, sewer vacuum and plow applications. The 4700 will be available to order in the third quarter of 2011, with targeted delivery in early 2012.
"The Western Star 4700 broadens our product lineup to meet the growing needs of value-minded vocational customers who still demand the attributes found in a traditional Western Star truck," says Mike Jackson, general manager of Western Star. "Hand-built with unmatched attention to detail, the 4700 features the same durability, ruggedness and reliability our customers expect from Western Star."
The 4700 is available with a broad range of powertrain options, including the Detroit Diesel DD13 engine and the Cummins ISC and ISL engines. The DD13 features a six-cylinder in-line configuration, 350 to 450 hp and 1,250 to 1,650 lb.-ft. of torque. Combined with Daimler's BlueTec selective catalytic reduction emissions technology and amplified common rail system, the DD13 can save vocational customers up to 5 percent in fuel economy, according to Western Star.
For vocational customers who do not require 13-liter power, the Cummins ISC and ISL are suited for applications that include the light plow and mixer market. Also utilizing SCR technology, the ISC features 260 to 350 hp and 1,000 lb.-ft. of torque, and the ISL features 345 to 380 hp and 1,100 to 1,300 lb.-ft. of torque.
A broad range of transmissions is also available for the 4700, including the latest Eaton Ultrashift Plus transmission, and Allison 3000 and 4000-series transmissions. "Both Detroit Diesel and Cummins engines are perfectly suited to meet the specific performance and efficiency needs of the vocational market," Jackson says. "Together with the Allison and Eaton transmission options, we're providing a premium powertrain package that will deliver every time."
The 4700's galvannealed steel cab is precision welded, then dipped and protected with a proprietary 17-stage e-coat process to facilitate long-lasting corrosion resistance and paint finish. A sloped hood offers improved site lines for added visibility, and the short BBC, combined with a 55-degree wheel cut, provides better maneuverability on tight jobsites.
The interior includes updated materials designed to be easier to clean, as well as lighter headliner colors that make the 72-inch wide cab a little brighter. Customizable marine-grade switches and a hinged dash with exposed fasteners for easier serviceability and accessibility also are included. A redesigned door maximizes storage and improves fit, finish and durability, all while enhancing entry and egress.
Body builder-friendly features include standard specs such as clean back of cab, in-cab batteries for clear frame rails, and front frame extensions. The body builder interface connectors and transmission control unit is located in-cab, providing greater protection against harsh or corrosive environments and helping to prevent wiring shorts. A bolt-in pass-through plate in the cab floor helps eliminate unnecessary drilling, while a dedicated body builder wiring raceway provides an accessible wire routing path through the cab floor. The truck also features point-to-point wiring to assist field serviceability in remote locations. An add-on multiplex option also is available.
A half-inch 3.2 million RBM single channel frame rail option – suited for customers operating in corrosive environments – helps reduce weight and maximize payload in a single frame, and is custom-punched to eliminate unnecessary holes that can reduce frame strength. Also, multiple mid-chassis packaging solutions are available to help body builders achieve the clean back-of-cab they need for optimal body installation. The routing and clipping of air and electrical lines down the chassis are suspended away from the frame rails to reduce the chance that the lines will rub against the rail, allowing road debris to pass behind rather than build up on the bundle, ultimately decreasing abrasion.
The standard stationary grille and optional hood engine access, as well as the Rear Engine PTO access panels, all enhance serviceability when bodies are installed. "Our dedicated team of engineers, along with selected body builders and customers, have taken the time to consider every bolt, wire and connector that went into this truck," says Jackson. "We're very proud of what we've developed, and can't wait for our vocational customers to start experiencing the premium package of the new Western Star 4700."