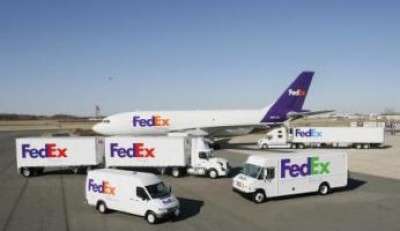 FedEx Corp. on Thursday, March 17, reported third-quarter 2011 revenue of $9.66 billion, up 11 percent from $8.70 billion the previous year. Net income was $231 million, down 3 percent from $239 million, and operating income was $393 million, down 6 percent from $416 million. The company's operating margin was 4.1 percent, down from 4.8 percent.
FedEx said that while yields grew in all transportation segments, unusually severe winter storms during the quarter disrupted operations, decreased shipping volume and increased costs, impacting year-over-year results. Earnings also were reduced by costs related to the January combination of FedEx Freight and FedEx National LTL operations, including lease termination costs and severance expenses. The reinstatement of merit salary increases, increases in pension and medical costs, higher aircraft maintenance expenses and the full reinstatement of 401(k) company-matching contributions also impacted earnings.
"Continued growth in the global economy is driving solid revenue gains in our transportation businesses," said Frederick Smith, chairman, president and chief executive officer of Memphis, Tenn.-based FedEx Corp. "We expect strong demand for our services to boost our financial performance in our fourth quarter."
For the third quarter, the FedEx Freight segment reported revenue of $1.12 billion, up 8 percent from $1.04 billion; an operating loss of $110 million compared with an operating loss of $107 million; and an operating margin of (9.8%), compared with (10.3%) the previous year. Less-than-truckload yield increased 11 percent primarily due to yield management initiatives, while LTL average daily shipments decreased 6 percent as a result of the yield management initiatives and the severe winter weather.
In January, FedEx Freight and FedEx National LTL combined operations, launching a new unified LTL freight network that offers customers the choice of two levels of service – FedEx Freight Priority and FedEx Freight Economy – from a single company. As a result of this combination, the segment incurred one-time costs of $43 million during the quarter and $130 million fiscal year-to-date due primarily to lease termination costs and severance expenses. FedEx said the operating loss in the quarter included the costs associated with the combination of the operations, while severe winter weather also significantly impacted results. The segment benefited from one additional operating day during the quarter.
"Successful yield management initiatives helped drive significant revenue growth across our transportation segments in the third quarter, although results were dampened by severe winter storms and higher-than-expected fuel costs," said Alan Graf Jr., executive vice president and chief financial officer. "Our FedEx Ground segment had record third-quarter results. In addition, we are very pleased with the execution of the new FedEx Freight strategy, which is expected to drive FedEx Freight's return to profitability in the fourth quarter. More broadly, we expect continued positive yield trends to improve revenues and margins in the fourth quarter and in fiscal 2012."
The company said fourth-quarter earnings could be affected by the impact of the ongoing political turmoil in the Middle East and North Africa on fuel prices and the economy, while the near-term impact of the earthquake and tsunami in Japan on operational costs, shipping patterns and the global economy was uncertain.