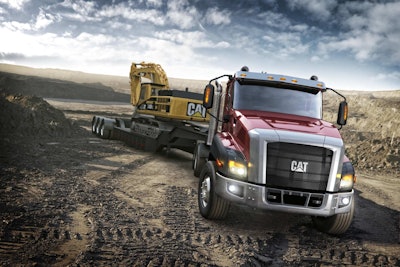 When Caterpillar announced in 2008 that it would be entering the on-highway truck market, there was great interest and speculation as to just how much of a Caterpillar truck the final product actually would be. After all, Cat was partnering with Navistar to produce the new truck. The two companies share a long history of collaboration on engine projects and high-pressure fuel system development. Would all of this shared engineering DNA simply result in a Cat-branded Navistar truck?
The answer is no. The new Caterpillar CT660 vocational truck is not simply an International Workstar with a shade of yellow lipstick. Caterpillar engineers have no hesitation in saying that their new truck is "essentially new from the framerails up." This is a bit of an exaggeration, of course. The Caterpillar CT11, CT13 and forthcoming CT15 engines are Navistar MaxxForce diesel engines. But it is entirely true that Cat engineers put their own distinctive stamp on this truck with styling cues taken directly from the company's wheel loader line and placed their usual emphasis on cab ergonomics.
The launch – which took place Sunday, March 20, in Las Vegas, Nev., on the eve of the ConExpo equipment show – was nothing less than an historic day for Caterpillar, according to George Taylor, director of the new Caterpillar vocational truck group. "This project really began about 15 years ago when we first started talking about entering the on-highway truck business," he says. "But, of course, Caterpillar has 40 years in the truck business with our line of on-highway diesel engines. So this was a market we knew well. But the real driver was our customers, who told us time and time again, 'Why don't you build trucks that I can use in my business?' "
That was an important point as Cat research showed that almost 75 percent of the company's current customers use on-highway trucks in their business. So Cat began a highly focused effort to find out how their customers were using vocational trucks as well as their likes – and dislikes – about the brands they were using. Taking that information, Cat engineers took Navistar's Workstar platform – a "donor truck," as they call it – and cleaned the slate to build it back up as a true Caterpillar machine.
The Cat CT660 has a distinct Caterpillar appearance, thanks to a brushed aluminum grill surround that gives the truck a bold, distinctive look that is highly successful: You will not mistake this truck for a Workstar when you see one. The hood features a sloped aerodynamic design for excellent visibility and decreased drag for improved fuel economy, with a modular design engineered to be easy, affordable and quick to replace. Caterpillar understands these trucks will be used in tough working conditions and wanted to be sure to give its customers a hood they easily could repair themselves. The same principle holds true for the truck's three-piece bumper design and easily replaceable headlamps.
Perhaps the most striking feature of the CT660 is its interior comfort and convenience for drivers. Cat long has placed operator comfort at the top of its list of critical criteria for equipment, and the new vocational truck is no exception to that line of thinking. The CT660's instrument cluster and center stack feature a slick, integrated speedometer/tachometer that easily can be read through the steering wheel. And Cat is proud of its Cat Link equipment telematics system and will offer the service as a standard feature (with a complementary three-year subscription) on all CT660 trucks. The system will give drivers and fleet managers easy access to a host of truck-specific data, including fuel economy, hours of operation, vehicle location, maintenance and troubleshooting information. Moreover, the system can contact a Caterpillar dealer directly should a problem develop to expedite the repair process and get the vehicle back on the road as quickly as possible. Other in-cab features include a premium sound insulation system to reduce road noise, an all-new HVAC system and lots of storage space.
Engine options for the CT660 include the Cat CT11, CT13 and CT15, with displacements of 11.1, 12.5 and 15.2 liters. Horsepower ratings range from 330 to 550, and peak torque ratings range from 1,450 to 1,850 lb-ft. The engines use Navistar's advanced exhaust gas recirculation system with a high-pressure common-rail fuel system, precision intake-air management system and electronic controls to provide an optimum blend of high performance, low emissions and fuel economy. The Compact Graphite engine block, designed to deliver added durability, reduces weight by as much as 500 pounds compared with conventional all-iron designs.
Cat has been building transmissions for its off-highway truck line for many years. And the Cat CX31 automatic transmission – derived from these off-highway transmissions – will be offered on CT660 trucks. The transmission features six forward speeds and one reverse and is built to complement the torque output of Cat CT Series engines. The transmission features heavy-duty clutches and gear sets that allow full-power shifts, increasing efficiency and productivity, while reducing drivetrain shock loads. An electronic control module, mounted directly on the transmission to simplify wiring and to boost reliability, regulates shift points based on throttle demand and vehicle speed. With adaptive shift-control logic, the CX31 can sense driver operating style to balance fuel economy and performance, while assuring easy operation for improved productivity and safety.
Power-take-off options for the CX31 include two side locations and a high-output rear location, which delivers constant live power under all operating conditions. An aluminum lockup torque converter in the CX31 allows the CT660 to make quick starts from a dead stop, even with heavy loads; the payoff is increased operating efficiency resulting from correct speed and torque combinations for different applications and reduced fuel consumption. In addition, the CT660 can be specified with other transmission options, including the manual and UltraShift Plus vocational transmissions built by Eaton.
Cat will back up the new truck line with dedicated service at Cat dealers across the country, including 400 service locations with 2,300 service bays, 100 chassis dynometer, more than 2,500 technicians and 7,000 service trucks. "The CT660 is not a one-trick pony," Taylor stresses. "This is the first truck in what will eventually be a complete line of Caterpillar vocational trucks. And all of these trucks will be fully customizable for a wide array of vocational applications and purpose-built for those applications. We are focused on delivering trucks that can perform in tough jobs and fully backed by our Cat dealers around the country."