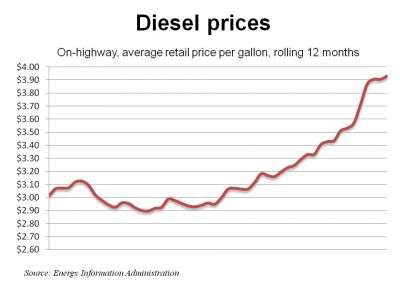 The slight pause in the diesel price surge was short-lived as the national average price for on-highway diesel increased 2.5 cents to $3.932 a gallon during the week ended March 28, according to the U.S. Department of Energy's Energy Information Administration. The price of diesel is now more than 99 cents above the same week a year ago and nearly 98 cents higher than the level in late September when the current surge began.
Prices increased in all regions, led by California and the other West Coast states. The smallest increase was eight-tenths of a cent in New England. California diesel was most expensive at $4.256 a gallon while the Gulf Coast region had the least expensive diesel at $3.857
Complete diesel price information is available on EIA's website.