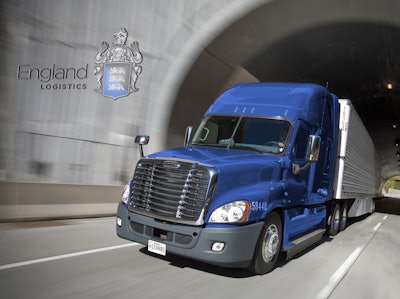 England Logistics, a worldwide third-party logistics (3PL) provider and wholly owned subsidiary of Salt Lake City-based C.R. England, announced that it has further enhanced its technology portfolio with McLeod Software's Freight Management Solutions (FMS) application.
McLeod is one of the leading software solutions for freight procurement, transportation management software (TMS), and spot market applications. England Logistics says that McLeod FMS will offer it a strategic advantage in the transportation industry's capacity-driven environment.
England Logistics says its use of McLeod FMS will benefit carriers in a number of ways. For instance, the company will be consolidating freight into clearly defined high volume lanes that will be offered up to its group of carriers. Carriers will have the opportunity to provide commitment levels, and rates, on lanes that compliment their network and meets their business needs.
Any carrier who wins a bid has an opportunity to receive committed freight in those lanes for the duration of the bid. For carriers, the ability to secure both consistent freight and consistent rates allows greater day-to-day business security and frees them up to focus resources in other areas of their business, like daily price negotiation and additional freight procurement.
"With the large volume of freight that flows through our network, our utilization of the McLeod FMS bid platform will allow us to further extend our reach for available capacity and strengthen the relationships we have with our carriers," said Michelle Potter, director of strategic development at England Logistics. "Through this application, we are able to leverage England Logistics' size and breadth of services, by securing long term commitments, thus minimizing some of the price and capacity volatility that is common in our industry. This is something that both our customers and carriers stand to benefit from."
The decision to invest in McLeod's FMS product was supported by the recent implementation and positive results attained from McLeod's PowerBroker software. England Logistics said this latest improvement follows in the footsteps of it recent purchase of IES, Ltd. freight forwarding software and the acquisition of freight management software company, TMS Technologies LLC.
"England Logistics continues to use their technology investments to better serve their customers and carriers in ways that give a competitive advantage in the market place," said Tom McLeod, President and CEO of McLeod Software.