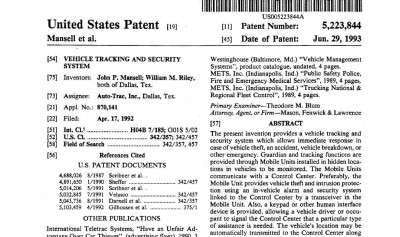 The apparent owner of a patent issued in 1993 for a Global Positioning System-based vehicle tracking and security system has sued 211 trucking companies, private fleets and logistics providers for patent infringement in eight separate federal courts across the country. The lawsuits, filed by Hewitt, Texas-based PJC Logistics LLC over several days beginning March 16, charge that each carrier uses or directs others to use electronic position-based fleet management and tracking systems in its fleet of vehicles that infringe on the patent.
The complaints do not disclose the basis for selecting the specific carriers named in the lawsuits while many other carriers that also use vehicle tracking systems are not targeted. In some cases, PJC Logistics has sued both a holding company and individual trucking companies within that umbrella — ABF Freight System in the Dallas federal court and Arkansas Best Corporation in the Tyler, Texas, court, for example. For a list of all defendants in the eight lawsuits, click here
A number of the motor carriers that are named defendants are Qualcomm customers, and others use competitors' fleet management systems, says Mark Sands, vice president and division counsel for Qualcomm Enterprise Services. Qualcomm has retained Cravath, Swaine & Moore to manage a joint defense for its customers in these cases, Sands says. Other major vehicle tracking system suppliers had no immediate comment.
There is little on the public record about PJC Logistics. However, the address listed in the complaints is the same as PJC Properties whose president is Patrick J. Curry. Curry was an officer of Waco, Texas-based Central Freight Lines from 1997 to 2003, holding several positions, including senior vice president of corporate development, senior vice president of logistics and finally executive vice president. Previously, he was president of truckload carriers Aggie Express and Universal Express. According to the PJC Properties website, the company's holdings include a small trucking company, Austin, Texas-based Cen-Tex Freight Lines, and WalkAbout Transportation, a warehousing and logistics firm also based in Austin.
The U.S. Patent and Trademark Office issued Patent No. 5,223,844 to John P. Mansell and William M. Riley, both of Dallas, on June 29, 1993. Mansell had formed a corporation, Auto-Trac, to develop the concept, but he died a few months before the patent was granted. His widow, Reba Mansell, later sold the company to E-Systems — eventually bought by Raytheon — in a deal that called for royalties of 4 percent of revenues to be paid to Mansell for 10 years. In 2003, Mansell won a $6.8 million jury verdict against Raytheon for failure to pay the required royalties on sales of the automated vehicle location system based on her husband's invention.
The jury also ruled that Raytheon violated its contract with Reba Mansell by selling the business to Orbital Sciences Corp. without her consent. It was not immediately clear how PJC Logistics came to own the patent.
Neither Curry nor the attorney representing PJC Logistics were immediately available for further comment on the lawsuit.