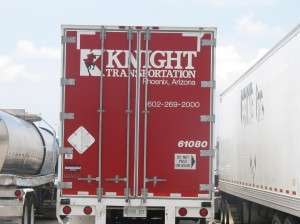 Knight Transportation on Wednesday, April 20, said total revenue for the first quarter of 2011 ended March 31 increased 12.5 percent to $186.5 million from $165.7 million for the same quarter of 2010. Revenue before fuel surcharge increased 7.3 percent to $150.5 million compared to $140.3 million. Net income decreased to $9.9 million from $12.3 million.
"The first quarter of 2011 was negatively affected by several factors," said Kevin Knight, chairman and chief executive officer of the Phoenix-based company. "Most notably was the dramatic increase for the cost of diesel fuel, our single biggest expense. In addition, softer-than-typical freight demand in the West, recently adopted electronic onboard recorders and severe weather across the country created significant challenges, leading to a shortfall in miles per truck this quarter of 3 percent compared to last year."
On a consolidated basis, the company reported an operating ratio (operating expenses, net of fuel surcharge, as a percentage of revenue before fuel surcharge) of 89.4 percent compared to 86.8 percent. The company's combined fleet finished the quarter with 3,878 tractors compared to 3,765 last year; this includes owner-operators ,which grew from 335 tractors to 464 tractors, an increase of 39 percent.
The company recently initiated rail intermodal services with access to 57,000 containers provided by its rail partners. "Those revenues were not meaningful in the quarter," Knight said. "Our earnings in the quarter were negatively affected as we ramp this business up and expect profit from this business during the second half of the year." The company also experienced an increase in the salaries, wages and benefits expense line during the first quarter attributed to a rise in benefit costs and the cost associated with the development of its businesses.
Knight said demand for its services improved in the Eastern half of the United States during mid-February and has continued to improve. "We expect that we will grow our revenue before fuel surcharge over the remaining three quarters of this year by a double-digit average as we see demand building for each of our services," he said. "We expect this revenue growth to be driven by rate increases, productivity improvement and additional capacity provided to our customers."
Knight said that despite the difficult trucking environment in recent years, the company has maintained its dry van fleet and has deployed additional assets into its refrigerated and port services businesses. "Going forward, we expect industry capacity to remain tight," he said. "Barriers to entry continue to grow with the rise in commodity and equipment prices, the growing complexity of technology, increased regulation,and the difficulties in obtaining financing. In this environment, we feel well-positioned to capitalize on strategic opportunities to grow each of our businesses."