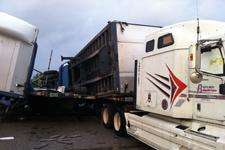 Various carriers and truck dealers in Alabama sustained damage or have lost power or phone service in the aftermath of a series of killer tornadoes that roared through the Southeast on Wednesday, April 27.
The death toll reached 342, including 236 in Alabama. Alabama has been declared a federal disaster area, and the governor has sought expedited federal assistance. President Obama visited the state Friday, April 29.
A twister tore the roof from Boyd Bros. Transportation's maintenance facility in Birmingham and damaged trailers, said Tres Parker, vice president of operations. Several people in the facility when the tornado struck took cover in maintenance bay pits and were unhurt, and some soft-side trailers were flipped during the storm.
Several carrier executives canceled reservations for this weekend's Alabama Trucking Association's annual meeting in Florida to tend to their businesses, said ATA's Ford Boswell.
Phone service wasn't available to truck dealers in Birmingham and Fultondale, both areas that sustained tornado damage.
Averitt Express, based in Cookeville, Tenn., said Friday, April 29, that it was working on a program to offer free shipping to Tuscaloosa, Ala., and other hard-hit areas for anyone donating items of need.
FedEx Corp. said that it "extends sympathy to people affected by the tragic tornadoes and other severe weather this week, and our condolences are with everyone who lost loved ones." All FedEx people were accounted for and safe, the company said.
FedEx said customers should expect delays in areas heavily damaged by the storm, and that because of the severity of damage in Tuscaloosa, service there is currently suspended. The FedEx station in Tuscaloosa sustained heavy damage, while a separate maintenance facility on ramp property at the Birmingham Airport was heavily damaged, but no substantial damage was found to other ramp property.
FedEx Ground delays were expected in the Alabama cities of Anniston, Birmingham, Dothan, Evergreen, Huntsville, Mobile, Montgomery and Tuscaloosa; the Georgia cities of Albany, Athens, Augusta, Columbus, Macon, Savannah, Statesboro and Waycross; and the Florida cities of Jacksonville, Pensacola and Tallahassee.
The FedEx Freight facility in Birmingham was expected to operate at about a 40 to 50 percent level; Meridian, Miss., expected to operate at a 50 percent level; Tupelo, Miss., operating at 70 to 75 percent level; Atlanta and Macon, Ga., reporting some delays because of downed trees on roadways; and Corning, Ark., reported facility flooding that led to relocation of some of that operation to the location in Jonesboro, Ark.
Two FedEx Office centers were closed in Birmingham, two in Huntsville and one in Tuscaloosa.
Financial support from Ryder System Inc. through the Ryder Charitable Foundation is enabling the American Red Cross to help residents impacted by tornadoes by offering a safe place to stay, a hot meal and a shoulder to lean on. In the days and weeks to come, the Red Cross will be coordinating with emergency officials and local community partners to help people impacted by the tornadoes get back on their feet. The Red Cross will keep shelters open as long as needed, in addition to providing mobile feeding and mental health support to those affected by the storm.
"Thanks to the generosity of our Annual Disaster Giving Program members like Ryder, the Red Cross is able to mobilize supplies and staff to provide help to people and communities in need," says Neal Litvack, chief development officer at the American Red Cross. "These contributions, along with the support of the American public, are critical during floods and similar disasters because they enable the Red Cross to rush immediate relief to disaster victims before the first donation has been given."
Since the Annual Disaster Giving Program's inception in 1997, members have pledged donations to the Red Cross in advance of major disasters to ensure an immediate response will meet the needs of people who are affected by disasters of all sizes, at no cost and regardless of income.
"As a member of the American Red Cross Annual Disaster Giving Program, Ryder helps to ensure the Red Cross can be on the scene of a disaster at a moment's notice," says Bob Brunn, vice president of investor relations and public affairs, and Ryder Charitable Foundation executive director. "We are proud to stand beside the Red Cross as they help those affected by disaster."
Individuals can join forces with companies who are members of the Annual Disaster Giving Program and help provide food, shelter, emotional support and other assistance to the victims of thousands of disasters across the country each year, disasters like the recent tornadoes, either by going to www.redcross.org or calling 800-RED-CROSS (800-733-2767) to make a donation.
Other members of the Annual Disaster Giving Program include companies such as 3M, Altria, Aon, Cisco Foundation, ConAgra Foods, Darden Restaurants Inc., Dr Pepper Snapple Group, FedEx Corp., GE Foundation, The Home Depot Foundation, John Deere Foundation, Kimberly-Clark Corp., Kraft Foods, Lowe's Companies Inc., Merck, Morgan Stanley, Nationwide Insurance Foundation, Northrop Grumman, Southwest Airlines, State Farm, State Street Foundation, Target, The TJX Companies Inc., UnitedHealthcare, UPS and Walmart.