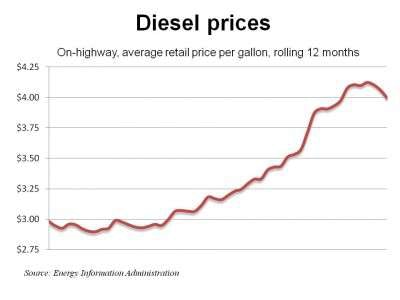 The national average retail price for on-highway diesel dropped 6.4 cents during the week ended Monday, May 23, to $3.997 per gallon, according to the U.S. Department of Energy's Energy Information Administration. The last time diesel prices were below $4 on average was the week ended April 4. The drop in prices is the largest since average prices fell 7.3 cents during the week ended May 24, 2010. Also, diesel prices have declined for three consecutive weeks, which hasn't since early September.
Diesel prices are 97.6 cents higher than the same week last year. The average price of diesel declined in all regions, ranging from a 3.3-cent drop in the Rocky Mountain region to an 8.4-cent drop in California, which still has the nation's highest prices. The Gulf Coast region has the lowest prices, averaging just under $3.935 a gallon.
Complete diesel price information is available on EIA's website.