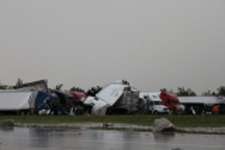 Con-way Truckload in Joplin, Mo., on Monday, May 23, said it remains open for business as the company continued to recover from Sunday's devastating tornado. The company's offices at 4701 E. 32nd St. were on the edge of the tornado's path, and no one in the building at the time the tornado struck was injured.
While the main building survived intact with damage limited mostly to broken windows, a maintenance facility adjacent to the main building was damaged seriously. About 30 mostly empty trailers and two tractors in the yard were damaged or destroyed.
The company said its primary operations center in the main building was not damaged and is up and running on emergency backup generator power. The company is in communication with its drivers and customers, is accepting customer orders and is dispatching trucks, and is conducting business as normal.
The devastating tornado killed at least 116 people and destroyed a Flying J truckstop, according to news reports. The twister was reported to be a mile wide and created a path of destruction three miles long. St. John's Hospital in Joplin sustained extensive damage, and patients were transferred to hospitals in Joplin, Springfield, Mo., and Arkansas, according to St. John's Mercy Medical Center in St. Louis.
Interstate 44 and U.S. 71 were reopened Monday morning after the twister roared through, overturning tractor-trailers and damaging businesses and homes. While a Flying J was destroyed, the Joplin 44 Petro truckstop apparently was not hit.
Truckers are advised to avoid the Joplin area for fueling as electricity hasn't been restored, according to the Missouri Department of Transportation. The Missouri governor has activated the National Guard to assist local officials, and a state of emergency was declared for the area near the Kansas and Oklahoma borders.
The Missouri Department of Public Safety issued an emergency declaration to waive certain federal regulations for carriers who participate in emergency relief.