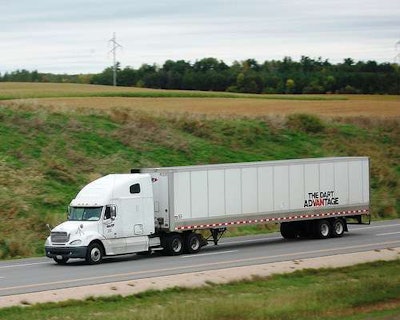 Mobileye Inc., a provider of driver safety systems and collision prevention and mitigation technologies, announced it was selected by Dart Transit Co. to equip its fleet of over-the-road trucks with Mobileye's collision avoidance system.
Mobileye's system features forward collision warning, headway monitoring warning and lane departure warning capabilities, each helping alert drivers to potentially dangerous situations. With high-intensity color-coded visual icons and audible alerts, the Mobileye system helps reinforce safe driving habits like turn signal usage, proper following distance and situational awareness, reducing the occurrence of accidents and related costs.
"Safety and customer service are Dart's two top priorities," says Gary Volkman, vice president of safety compliance for Eagan, Minn.-based Dart Transit. "After conducting research, we found Mobileye's technology gave our independent contractors the tools to take safe driving to the next level. We believe Mobileye will help our drivers leave a safe following distance, maintain lane position and avoid distractions, making the roads safer for every driver as we provide our customers reliable service."
The Mobileye system employs a smart camera powered by the company's proprietary chipset and algorithm, a speaker for audible alerts and an unobtrusive and compact dash-mounted display for communication of visual alerts to the driver.
"Given that nearly 80 percent of crashes are due to distracted driving three seconds before an accident, Dart Transit made the decision to equip its fleet with our technology," says Skip Kinford, chief executive officer of Mobileye Inc. "We applaud their investment in prioritizing safety on the nation's roadways. This technology not only improves safety for drivers and for those sharing the road, but our analysis has shown that our customers have enjoyed a very impressive return on investment."