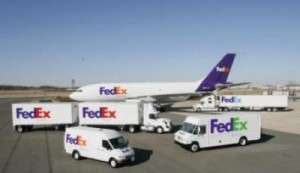 FedEx Corp. on Wednesday, June 22, reported net income of $558 million for the fourth quarter ended May 31, up 33 percent from last year's $419 million. Revenue was $10.55 billion, up 12 percent from $9.43 billion, and operating income was $888 million, up 28 percent from $696 million.
The company said revenue and earnings increased due to continued strong yield improvement in all transportation segments and volume growth of ground and international express shipments. FedEx Freight's return to profitability also improved operating results.
"During fiscal 2011, an improved economy, strong customer demand and decisive actions to grow our business led to increased volumes and yields across all transportation segments," said Frederick W. Smith, chairman, president and chief executive officer of Memphis, Tenn.-based FedEx Corp. "With this positive momentum, moderate economic growth and subsiding cost headwinds, FedEx is well positioned to deliver strong earnings growth in fiscal 2012."
The FedEx Freight segment reported revenue of $1.31 billion, up 6 percent from $1.23 billion; operating income of $42 million, up from an operating loss of $36 million; and an operating margin of 3.2 percent compared with (2.9 percent). Less-than-truckload yield increased 13 percent primarily due to yield management actions and higher LTL fuel surcharges. LTL average daily shipments decreased 8 percent as a result of the yield management actions. The segment returned to profitability in the quarter due primarily to the higher LTL yield.
Last year's results included an $18 million impairment charge related to the goodwill associated with the acquisition of Watkins Motor Lines. The company said strong yield growth and efficiencies resulting from the Jan. 30 combination of the FedEx Freight and FedEx National LTL operations are expected to drive a substantial improvement in operating results in fiscal 2012. The net cash effect of the combination was immaterial, as cash proceeds of $88 million from asset sales offset severance and other cash outlays.
The company's capital spending forecast for fiscal 2012 is $4.2 billion, which includes the delivery of aircraft as well as progress payments toward future aircraft deliveries, along with investments in facilities, vehicles and information technology in support of the company's global growth strategy. The company said it will benefit from the tax expensing/accelerated depreciation provisions included in the Tax Relief Act of 2010 passed last December.
"Our actions to improve yields continue to drive revenue and earnings growth across our transportation segments," said Alan B. Graf Jr., FedEx Corp. executive vice president and chief financial officer. "FedEx Ground maintained its exceptional performance this quarter, increasing volume, yields and margins, while FedEx Freight returned to profitability. Even with higher planned capital spending in fiscal 2012, margins, cash flows and returns are expected to improve year over year."