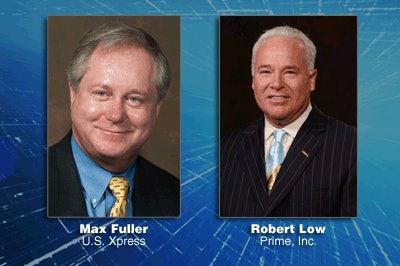 Max Fuller, co-chairman of U.S. Xpress, and Robert Low, president and founder of Prime Inc., are just two of the fleet executives who will share their insights during the second annual Commercial Vehicle Outlook Conference, set for Aug. 24-25 at the Dallas Convention Center. More than 350 industry leaders from all segments of trucking attended last year's inaugural conference.
Fuller will participate in "The Future Truck," a panel discussion which also will feature Sandeep Kar, global program manager with Frost & Sullivan, and Kyle Treadway, president of Kenworth Sales Co. and chairman of the American Truck Dealers. The panel will discuss Kar's research on topics such as offshore competition, telematics and alternative fuels.
Low and other fleet executives will discuss how fleets are dealing with current and future challenges, such as the driver shortage, increasing regulations and high fuel and equipment costs. Noel Perry, managing director with FTR Consulting Group, and Peter Nesvold, transportation and logistics analyst with Jefferies & Co., will provide insights on those same topics, as well as equipment sales, freight trends and capacity.
Other conference highlights include:
• A keynote presentation by Karl Rove, former deputy chief of staff and senior adviser to President George W. Bush, who will give his insider's view on Washington politics and the 2012 presidential election;
• Opening remarks on the second day of the conference by industry veteran James Hebe, Navistar executive vice president of sales, who will share his insights on the challenges facing OEMs, suppliers, dealers and fleets; and
• An update on the regulatory and legislative issues affecting OEMs, suppliers and carriers provided by Rob Abbott, vice president of safety policy for the American Trucking Associations, and Ann Wilson, senior vice president of government affairs for the Motor Equipment Manufacturers Association.
Presented by the Heavy Duty Manufacturers Association and Randall-Reilly Business Media and Information, which produces Commercial Carrier Journal and Successful Dealer magazines, the conference will be held Aug. 24-25, the day prior to and the opening day of the Great American Trucking Show. Registration begins at 11 a.m. Wednesday, followed by a networking lunch. A networking reception will be held immediately following the program on Wednesday. The conference ends at noon on Thursday when GATS opens.
For more details and to register, go to www.cvoconline.com. The event is sponsored by Castrol, Chevron, Espar Heater Systems, Jacobs Vehicle Systems, Kenworth, Paccar Parts, Paccar Engines, Peterbilt and Valvoline.