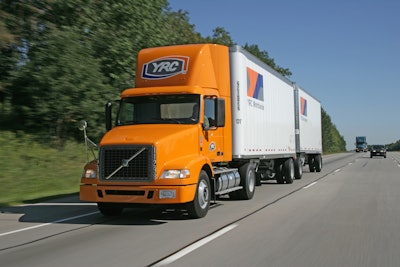 YRC Worldwide Inc. on Monday, July 11, announced it has obtained commitments for a three-year $400 million asset-based loan facility that will replace the company's existing asset-backed securitization facility. The Overland Park, Kan.-based company says commitments for the ABL facility comply with the agreements reached April 29, with key stakeholders providing for their support of the company's financial restructuring plan.
"Replacing the ABS facility with this new facility should improve the company's liquidity," says John Lamar, chief restructuring officer and lead director of YRC Worldwide. "That helps support our industry's seasonal pattern of revenues and provides the financial flexibility and run room we need to grow the business." Lamar says YRC Worldwide remains on track to close the restructuring later this month.
YRC Worldwide in late April announced that more than 95 percent of the senior secured lenders had approved the restructuring documentation, as had 100 percent of the company's multiemployer pension funds, along with the International Brotherhood of Teamsters, and 100 percent of the lenders under the company's asset-backed securitization facility, in each case subject to the terms and conditions contained in the agreements.
The restructuring plan set out in the definitive agreements anticipated an infusion of $100 million in new capital. In addition, the restructuring plan contemplated that a portion of the company's existing loans and other obligations would be exchanged for new securities, including the exchange of some obligations for equity. This was expected to be accomplished by a series of transactions to be completed this month and would result in the company's existing shareholders holding about 2.5 percent of the company's outstanding common stock, subject to further dilution by a management incentive plan and the conversion of certain new securities.