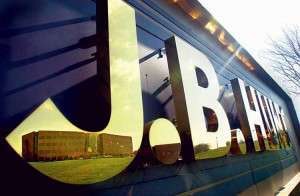 J.B. Hunt Transport Services Inc. on Thursday, July 14, announced record second-quarter 2011 net earnings of $65.7 million, a 26 percent increase compared to second-quarter 2010 net earnings of $52.1 million. Total operating revenue was $1.15 billion, a 22 percent increase compared with $943 million, with all four of the Lowell, Ark.-base company's segments contributing to the increase in operating revenue.
Load growth of 18 percent in Intermodal (JBI) helped drive a 29 percent increase in segment revenue. J.B. Hunt's Integrated Capacity Solutions (ICS) and Dedicated Contract Services (DCS) segments increased operating revenue by 27 percent and 16 percent, respectively, while Truck (JBT) segment revenue rose 4 percent. Total operating revenue, excluding fuel surcharges, increased 14 percent.
Operating income totaled $113 million, a 24 percent increase compared to $91 million, with three of J.B. Hunt's segments contributing to this increase; JBI accounted for nearly $17 million of the increase, while DCS and ICS combined to add about $5 million.
"The second quarter of 2011 yielded record revenues and record earnings," said John N. Roberts, president and chief executive officer. "We attribute the accomplishments to the intelligence and hard work of our people who make it happen every day, every stop and every mile."
Roberts said Intermodal and DCS, which make up more than 80 percent of the company's total revenue, continued to demonstrate the differentiation qualities J.B. Hunt has been working to highlight for some time. "Both of these businesses have established a leadership position in their respective fields of service," he says. "During lingering economic pressures and unsteadiness in the general freight markets, JBI and DCS once again revealed a higher degree of resiliency than that of traditional full-truckload transportation models. Additionally, we realized year-over-year improvement in ICS despite continued pressure on margins created from the lackluster macroeconomic environment."