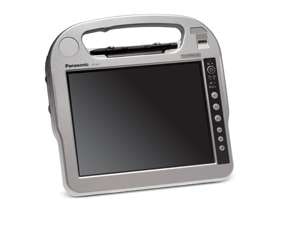 Panasonic Solutions, a provider of collaboration, information-sharing and decision-support solutions for government and commercial enterprises, announced the Toughbook H2, a fully-rugged, ergonomic Windows tablet PC.
Panasonic says the device's handheld design is for field service workers, first responders, clinicians and other mission-critical professionals. This next-generation tablet includes an enhanced processor, increased RAM and hard drive capacity, I/O ports and a screen that delivers viewability in all lighting conditions through the use of Panasonic's TransflectivePlus technology.
The Toughbook H2 is powered by an Intel Core i5-2557M vPro processor (1.7GHz with Turbo Boost up to 2.7GHz) for faster speeds and enhanced device management. The device also comes standard with 4GB RAM, expandable to 8GB, and a 320GB 7200rpm hard disk drive, with an optional 128GB solid state drive available.
Starting at only 3.5 pounds, the H2 delivers 6.5 hours of battery life and includes fast charging twin hot-swappable batteries that allow for virtually limitless use, maximizing up time. Panasonic has also upgraded the desktop cradle to improve charge time to three hours.
The Panasonic Toughbook H2 includes a 10.1" dual touch display that offers both digitizer and touchscreen functionality. The device includes a molded hand strap, which allows workers to stand or carry the device for an entire shift. As a fully-rugged device, the Toughbook H2 is MIL-STD-810G tested – with a six foot drop rating. It is designed to be operational in extreme weather conditions and is engineered and certified for vehicle use.
The Toughbook H2 offers a variety of embedded wireless technologies, including Wi-Fi, Bluetooth and optional Gobi2000 3G mobile broadband technology from Qualcomm. The device is certified on the Sprint and Verizon Wireless 3G networks – with others to be announced later in the year. With certifications coming later this year, the Toughbook H2 will also offer embedded support for 4G networks.
The Toughbook H2 includes optional integrated features like barcode and RFID readers, camera and GPS receiver to enhance worker productivity and minimize the number of devices in the field.
In the United States, the base Toughbook H2 model is expected to be available at an estimated street price of $3,449 from authorized Panasonic resellers and distributors.
The Toughbook H2 is backed with a three-year limited warranty.