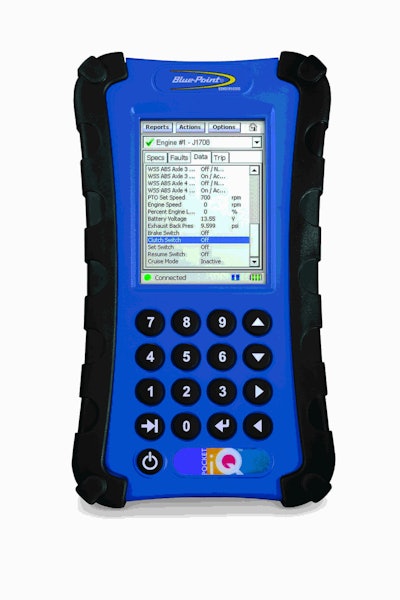 Snap-On announced the Blue-Point Pocket iQ, a versatile, handheld diagnostic tool that can be used for all commercial vehicles from light duty to Class 8 trucks.
"Whether you are in charge of an entire fleet or you just need to run occasional diagnostics on a service vehicle or two, the new Pocket iQ is the fastest way to get the answers you need to keep those trucks, vans and equipment on the road," said David Brekke, category manager for Snap-on.
The new Blue-Point Pocket iQ by Nexiq Technologies is a heavy duty scan and triage tool designed for dealers, fleet service writers, shop technicians, owner operators, maintenance facilities and fleet shops, the company says.
Features and benefits include:
• For medium and heavy duty trucks: reads active fault codes; reads and clears inactive fault codes; monitors J1708 and J1939 engine, brake and transmission data
• For light duty trucks: reads active fault codes; reads and clears inactive fault codes; monitors OBD II engine data
• Reporting tools enable technicians to save vehicle diagnostic and fleet performance information in PDF or text format. Reports can be printed to a standard PCL3 printer or transferred to a memory stick
• Port allows for future updates/upgrades and provides the ability to download reports to your memory stick
To find out more about the Blue-Point Pocket iQ powered by Nexiq Technologies, visit www.snapon.com