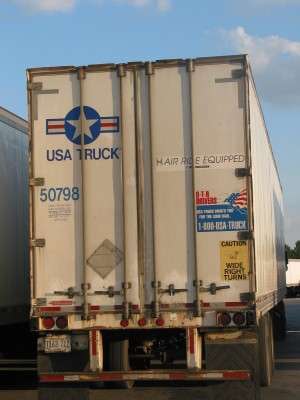 USA Truck Inc. on Thursday, July 21, announced base revenue of $108.5 million for the second quarter ended June 30, an increase of 14.3 percent from $94.9 million for the same quarter of 2010. Net income was $0.6 million compared to $0.9 million. Base revenue increased 13.0 percent to $208.1 million for the six months ended June 30 from $184.1 million for the same period of 2010. The company incurred a net loss of $2.12 million compared to a net loss of $2.10 million.
"Despite a relatively soft freight environment in the first six weeks of the quarter, we nearly tripled our earnings excluding the effect of last year's fuel hedge gain," said Cliff Beckham, president and chief executive officer of the Van Buren, Ark.-based company. "As we progress toward full implementation of our VEVA (Vision for Economic Value Added) strategic plan, we believe our diversified model of integrated and complementary service offerings exhibits more signs of maturity."
Beckham said that while the company's turnover rate was lower than the second quarter of 2010, the carryover of unmanned trucks from the first quarter led to elevated driver-related costs as it worked to find qualified drivers. Driver compensation costs increased nearly 3 cents per mile for the quarter, while driver recruiting and training costs also increased by 20 percent. "We expect that most of these costs will subside upon reaching our goal of 3 percent unmanned tractors," he said.
Beckham said that USA Truck's model gained momentum as the quarter unfolded. "Tighter truck capacity relative to freight demand certainly contributed to that momentum late in the quarter, but we believe our model gained a measure of maturity during the quarter as we extended our services to specific new customers in the right lanes at the right prices," he said.