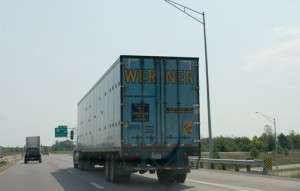 Werner Enterprises Inc. on Wednesday, July 20, reported net income for the second quarter ended June 30 rose 31 percent to $27.5 million from $20.9 million during the same period a year ago. Revenue was up 11 percent to $515.9 million; excluding fuel surcharges, revenue was up 2 percent.
Werner said it produced continued strong earnings growth despite sluggish freight demand in the first two months of the second quarter compared to strong freight demand throughout the second quarter of 2010. Freight volumes strengthened in June from April and May. "We continue to believe that favorable truckload trends are caused to a greater degree by industry capacity constraints than economic recovery," the Omaha, Neb.-based company said.
Werner said contractual rate increases and a better freight mix were the principal reasons for rate improvements. "We continue to be successful in this tightening capacity environment by working jointly with our customers to secure sustainable transportation solutions across all modes," the company said. "We remain committed to maintaining our fleet size at approximately 7,300 trucks.
The company said capacity in the industry remains constrained by both economic and safety regulatory factors. "We will continue to strengthen and redesign our truckload freight network to optimize and maximize increasing freight opportunities without adding trucks," Werner said. "As a result, we are focused on expanding our operating margin percentage to raise our returns on assets, equity and invested capital, while staying true to our broad transportation services portfolio for our customers."
Werner said the driver market is increasingly more competitive compared to 2010 and to the first quarter of 2011. "An improving freight market, changing industry safety regulations and reduced financing options for driving school candidates continue to tighten qualified and student driver supply," the company said. "We expect driver market challenges to increase for the remainder of 2011."