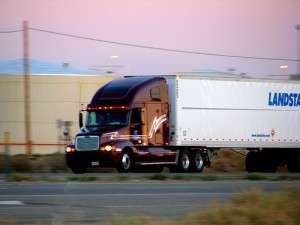 Landstar System Inc. on Thursday, July 21, reported 2011 second-quarter net income of $29.6 million compared to net income of$24.4 million for the 2010 second quarter. Operating margin was 43.6 percent compared to 38.2 percent, and revenue was $675.6 million compared to $641.7 million.
Truck transportation revenue hauled by owner-operators and truck brokerage carriers was $621.5 million compared to $592.0 million, including $25.9 million and $23.1 million, respectively, of fuel surcharges; also included was revenue generated under the company's less-than-truckload substitute line-haul service offering of $18.8 million and $70.5 million, respectively.
"Despite the anticipated revenue decline in our substitute line-haul service offering, revenue increased 5 percent over the 2010 second quarter," said Henry Gerkens, chairman, president and chief executive officer of the Jacksonville, Fla.-based company. "Excluding the substitute line-haul revenue from both the 2011 and 2010 second quarters, revenue increased 15 percent."
Gerkens said he would characterize the overall second-quarter freight environment as "a little choppy," but moving in an upward direction. "Pricing continued to be strong," he said. "Recent trends in June, and thus far in July, indicate continued strength in revenue per load with a relatively stable increase in the number of loads hauled month-over-prior-year month. I expect these trends to continue throughout the 2011 third quarter."
Gerkens said that excluding disaster relief service revenue, revenue generated in the company's third quarter historically has been similar to revenue generated in the second quarter.