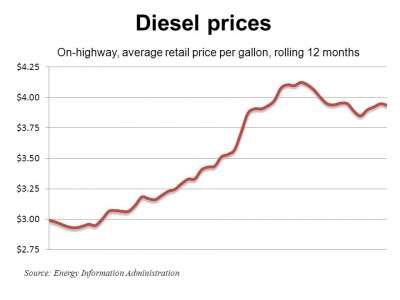 After three straight week of increases, the U.S. average price for a gallon of diesel slipped 1.2 cents to $3.937 for the week ended Aug. 1, according to the U.S. Department of Energy's Energy Information Administration. The price is nearly $1.01 higher than the same week last year.
Regionally, the picture was somewhat mixed as diesel prices dropped in seven regions, increased slightly in New England and the Rocky Mountain states and were unchanged in the Central Atlantic. The largest drop was 3.8 cents on the West Coast.
The average price of diesel climbed in all regions tracked by DOE. The largest increase was 3.3 cents on the West Coast, where prices climbed to $4.038. The smallest increase was 0.3 cents in New England, where prices climbed to $4.037.
Complete diesel price information is available on EIA's website.